DJ Ashba is an American guitarist and songwriter. He is best known for his work with hard rock bands BulletBoys, Beautiful Creatures and Sixx:A.M. with Mötley Crüe's Nikki Sixx, and Guns n' Roses.

Ashba has also worked with various artists including Trapt, Drowning Pool, Marion Raven and Aimee Allen.
Let's look at some of the gear and equipment that has been seen in Ashba's guitar rig.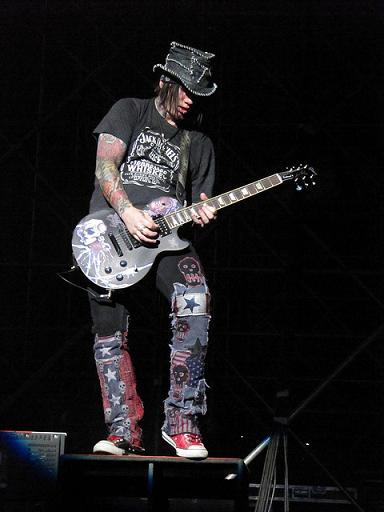 Click the gear images for more info and specs at Guitar Center and Amazon

Guitars
- variety of Gibson Les Paul guitars (most have custom graphics)

- Ernie Ball/Musicman Axis "Boedaddy" (Covered by DJ in stitched leather)

- Ernie Ball/musicman axis "addiction" (custom graphics)
- Ovation Acoustic "heroin Diaries" and many other Ovations including a Signature DJ Ashba model

-  Gibson Les Paul Classic (Goldtop)
- Seymour Duncan Pickups (including Alnico II Pro)
Note: Check out Dj ASHBA's website to see pictures of all of his guitars and gear. You will see that he has a TON of Ernie Ball electrics and Ovation Acoustics.


Amps and Cabinets
- In 2012, Live he is not using cabinets - right out of Fractal to the board!
- Mesa Boogie Dual Rectifier 100W heads (Guns n Roses 2010)

- Marshall cabinets

- Four straight-front Line 6 4x12 cabinets loaded with celestion vintage 30s

- Two modified Line 6 POD pro amp modules

- Line 6 Vetta HD and Vetta HD II Heads




Pedals
- Morley Mark Tremonti wahs
- Digitech WH-4 Whammy

- GCX Ground Control PRO Midi Controller
- Ernie Ball Volume

- Boss NS-2 Noise Suppressor
- Boss TU-2
- Digitech XMC Multi Chorus
- Boss OC-3 Super Octave

- Electro Harmonix POG2 pedal
- Dunlop Crybaby Q Zone pedal
- Vox Satriani distortion (eye witness account)
- EHX Talking Machine pedal

- Quick Silver delay pedal
- Lovepedal Amp 50 pedal

Rack gear
- Fractal AXE-FX II
- RJM Effects Gizmo
- Four electro-voice RE-1 wireless units or Shure UR4D
- Radial JD7 Injector

- TC Electronic G-Major effects processor
- Dunlop Crybaby Rack Wah
- Line 6 Rack POD

- TC Electronic G-Force
- Coleman Audio GT-6
- Furman PL-Pro DMC

- Lexicon MPX G2 Effects Processor
Strings and Picks
- Ernie Ball 10-48 and Ernie ball 11-50 gauge strings (said he uses 48, 38, 28, 17, 13, 10 gauges. For rhythm on records, he takes a 7 string 10-56 set and throws out high string)
- D'Andrea 351 HV BLK CX picks