Keith Nelson is the lead guitarist for the Hard rock band Buckcherry. He was one of the founding members of the band, along with singer Josh Todd.

Let's look at some of the gear and equipment that has been seen in Keith's guitar rig.

It is important to note that Keith has a huge collection of gear, especially vintage stuff...so if you find a source that can add info to this listing, please leave a comment. keith has said "I pretty much have every vintage Marshall, every vintage Vox you'll need" (premierguitar) and he has an armload of vintage guitars.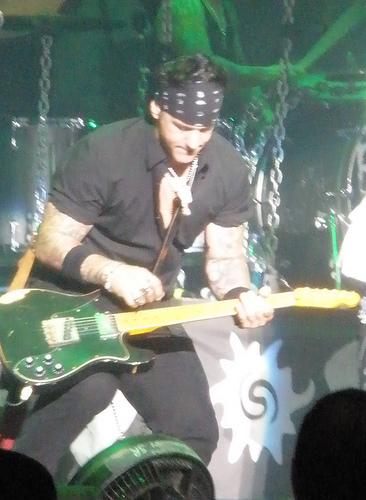 Click the gear images for more info and specs at Guitar Center and Amazon

Guitars
- '59 Gibson Les Paul reissue guitar (calls it "Duane") - WCR Godwood pickups

- Gretsch 6120

- Fender '51 and '53 Esquire guitars

- Fender '71 Strat

- Fender Telecaster Custom

- Gibson Les Paul Junior

- Gibson '62 SG

- Gibson '62 355 (black)
- Gibson '54 Gold Top
- Various other Gibson Les Pauls
- Zemaitis custom shop GZMF501 guitar
- Zemaitis protoype of his signature guitar (WCR "Cherry Bucker" in bridge)
- Fender "Telemaster" - part tele, part jazzmaster
- Duesenberg guitar
- Bill Nash tele ("Jenny")
- Nash body telecaster, built to look like Keith Richard's guitar
Note: The Mar 2008 Vintage Guitar Magazine has an article on Keith's guitars and amps. If anyone has this magazine, fill us in!!!


Pickups
According to the Seymour Duncan Site Keith uses these pickups:
- Ant. HB, SH-1n, SH-11, STL-1b, Ant. P-90, SH-55






Amps and Cabinets
- Marshall '71 Super Lead 100
- Germino MONTEREY 100 amp head
- Marshall '68 small-box "Plexi"
- Marshall '66 JTM45
- Vox AC30 Top Boost
- Divided by 13 amps - model RSA31 amp and cabinets
- Fender Bandmaster
- Budda Collectors Edition Twinmaster with matching 1x12 Exension cab
- Victoria and Louis Electric tweed twin amplifiers



Effects and More
Note: Keith has many of his pedals Keeley modded
- Boss SD-1 (Keeley 5-star modified)

- Vox Wah pedals (modified)
- Rocktron Banshee talk box

- MXR Phase 90
- Voodoo Lab Tremolo
- Boss Delay pedal
- Boss pedal tuner
- Radial SGI44
- Keeley true bypass loopers
- Keeley Java Boost
- Mogami cables
- Morley Pedal(s)
- Budda Wah
- Ground Control
- MXR Carbon Copy pedals (x2)
- Voodoo Lab Pedal Power
- Radial JX44