Oli Herbert is an American guitarist best known for being the lead guitarist in the metalcore band All That Remains.

Let's look at some of the gear and equipment that has been seen in Oli's guitar rig.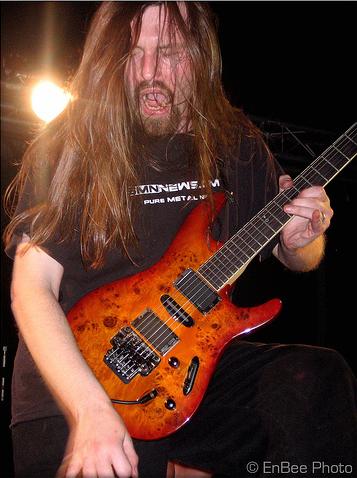 Click the gear images for more info and specs at Guitar Center and Amazon

Guitars
- Ibanez Xiphos Guitars (27 fret)

- Ibanez S2170, S1625 and other Ibanez guitars (used previously)
- Takamine acoustic guitar


Amps and Cabinets
- Blackstar amplifiers (Series One)

- Peavey 6505+ or 5150 II head
- Mesa/Boogie 4x12 cabs (Celestion speakers)

- Marshall JCM800 (some studio work)
- Splawn Quick Rod (some studio work)




Effects
- Maxon OD808 Overdrive. Also eyewitness reports say he has used an OD9.
- Boss NS-2
- Boss DD-5 Digital Delay (DD-7 pic below)
- Boss Chromatic tuner pedal
Strings, Picks and More

- Ernie Ball guitar strings gauges (.012, . 016, .020, .032, .042, .054 - must be a custom set)
- Dunlop Jazz III guitar picks
- D'Addario EXL145 (.012-.054 gauge)
- DiMarzio ClipLock straps