Cristiano Migliore is a guitar player in the Italian metal band Lacuna Coil.

Let's look at some of the gear and equipment that has been seen in Cristiano's gutar rig.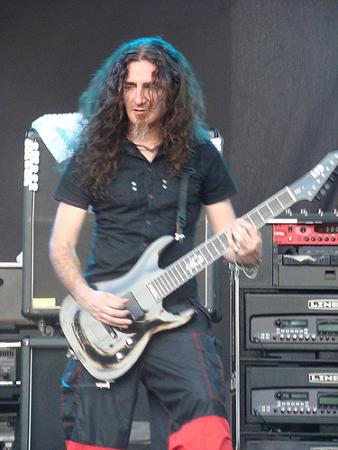 Click the gear images for more info and specs at Guitar Center and Amazon

Guitars
- ESP/LTD SC-607B Stephen Carpenter 7-strings with standard EMG pickups

- Ovation Elite model acoustic



Amps and Cabinets
- Line 6 Spider Valve Heads

- Line 6 Hd 147 heads
- Line 6 Flextone II HD and Vetta II heads
- Line 6 4x12 cabs

- Mesa Boogie Cabinets

- Marshall Cabs (previously)




Effects
- Line 6 FBV Shortboard Switch

- Dunlop Dime Crybaby from Hell

- Beyerdynamic opus 500 with ts 500 transmitter
- Line 6 Pod XT Pro rack

- Furman Power Conditioner

Note: Most effects come from the Line 6 gear


Strings and Picks
- Dean Markley Blue Steel strings (.010-.056) The low B on 7th string is .060 gauge.

- Dunlop Tortex picks