Laura Jane Grace (formerly known as Tom Gabel) is a singer and guitar player in the band Against Me! He favors Rickenbacker guitars and a variety of amps. Not too many pedals though!

Let's see what type of gear and equipment Laura has had in his Against Me Guitar Rig.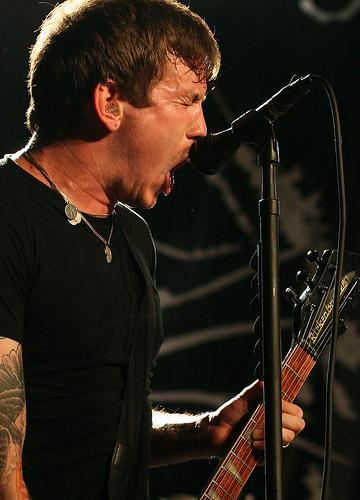 Click the gear images for more info and specs at Guitar Center and Amazon


Guitars
Note: Laura has many Rickenbacker guitars
- Rickenbacker 360, 370, 620, 330 model guitars

- Gibson Acoustic - looks like a J-50
- Martin Acoustic cutaway
- Fender Telecaster (black)

Note: Previously used G&L guitars
- Seymour Duncan custom wound pickups


Amps and Cabinets
Note: Laura has used a fair amount of different amp combinations on tour.
- Matchless Head
- Hiwatt combo (Hiwatt Custom Studio Stage MKII 40W 2X12) and Hiwatt 4x12 cab
- VOX AC30 CC2X 2x12" combo amp which drives a Vox V121BNX 2x12" cab with Celestion Alnico Blue speakers
- Fender blonde Bassman Head (combo pictured below)
- Mesa Boogie amps
- Fender silverface Twin Reverb





Effects and More
- Boss SD-1 Super Overdrive pedal

- Electro-Harmonix Big Muff (Appears to be Russian model - not 100% positive on this - but it looks like it)
- MXR Phase 90 pedal
- Boss TU-3 tuner pedal
- Boss Digital Reverb
- MXR Carbon Copy delay
- MXR Micro Amp
- Line 6 Delay pedal
- Keeley 2 Knob compressor
- Tech 21 XXL
- Blackstone Mosfet Overdrive pedal
- Keeley Katana Clean Boost

 (see pedal on right in pic below. Believed to be an older Tech 21 XXL pedal


Strings, Picks and More
- Dunlop Tortex picks, size .46mm and .73mm
- Dean Markley .010 gauge strings
- Planet Waves cables
- Mogami Patch Cables