Joe Walsh is a rock guitarist and singer who has been in some of the most popular rock bands of all time. Walsh was in The James Gang, solo, and also best well known for being in The Eagles.

Joe's rig has had tons of guitar gear and equipment in it over his long career, and it is constantly changing, so we'll try to focus on more recent stuff, and give somewhat of a decent idea of what he's used.

Please feel free to add to the list by leaving a comment or posting in the forum.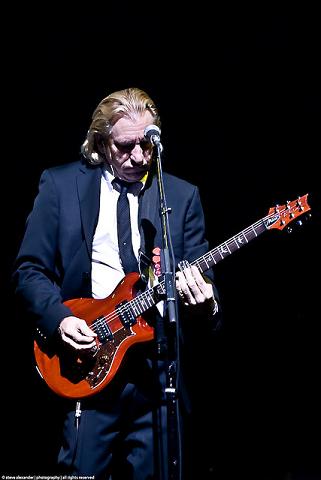 Click the gear images for more info and specs at Guitar Center and Amazon

Guitars
- Fender Telecasters

- Fender Stratocasters (model Eric Clapton, etc...)
- Rickenbacker (model Glennn Frey)
- Gibson Les Paul Gold Top with Bigsby

- Gretsch Duo Jet (black)
- Gretsch White Falcon

- Gibson Les Paul Standard

- 12-string Takamine acoustic guitars
- '57 Gretsch 6120 Hollow Body

- Gibson J200

- Gibson J-185 12-string
- Ernie Ball Benji Madden guitar
- Carvin California Single Carved top CS6M
- Paul Reed Smith Mira guitar

- Epiphone guitars
- variety of Duesenberg guitars
- Gibson Double Cut guitar
- Gibson '58 goldtop
- Fender '53 broadcaster

Amps and Cabinets
- Hiwatt Custom Studio/Stage 40w Combo (head is pictured below)

- Egnater Rebel 20 amplifier
- Roland Micro-Cube amp (for practice) Cube-60

- Variety of Dr. Z amps (Maz 38, KT45, RX ES, Z Wreck amps...)
- Roland JC-120 Jazz Chorus amp (in 1983)
- Peavey MX Amp (in 1996)
- Trace Elliot TA C 200 Acoustic Combo (in 1996)
- Dr. Z boxes (in 1996)
- Hammond Leslie

- Carvin Bel Air amp
- Modified Fender Twin (in the older days)

- Mojave Scorpion
- Vintage Marshall Amps
- Groove Tubes GT-E34LS Power Tubes

- Fender Frontman 2x12 combo (Live from Daryl's House)
- Fender FM15 (used on Analog Man)
- Fender blackface Champ





Effects and More
- Boss PS-5
- Boss DD-3 and DD-6 pedals
- Boss OS-2
- Boss CH-1
- Boss BF-3
- Boss LS-2
- Ibanez TS-9

- Boss PSM-5 Power Supply and Master Switch
- Boss GE-7
- Talkbox
- Korg rack tuner
- Wireless unit
- Dunlop Wah
- Real McCoy Joe Walsh Signature Wah Pedal (started making this in 2007)
- Visual Sound H20 pedal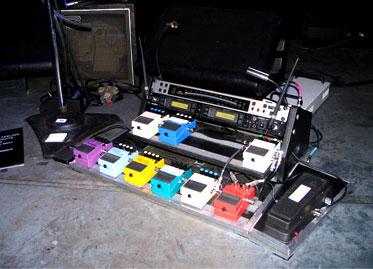 Strings
- Ernie Ball Strings (Ernie Ball site shows RPS 10's)