Mike Herrera is an American musician most widely known as the vocalist and bass guitarist for the pop punk band MxPx. Mike is the primary songwriter, and plays the bass guitar as well as performs the vocals in the pop punk band MxPx.

Not only does Mike have his own production studio, he also has been in other projects such as Arthur, The Cootees, and country band Tumbledown.  

Let's see what type of gear and equipment you could find in Mike's bass rig.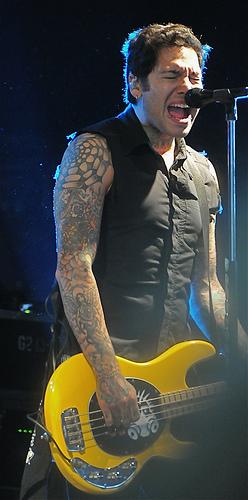 Click the gear images for more info and specs at Guitar Center and Amazon

Bass Guitars
- Custom Ernie Ball/Music Man StingRays
- Fender Precision basses (mexican made white one, 70's one that is sunburst/maple)
- Peavey T-40 bass




Amps and Cabinets
- Hartke LH1000 head and an Hartke 8x10 HyDrive cabinet
- Hartke AC150 bass combo (there is a pic of his amp on Hartke's myspace)
- Ampeg SVT-CL head

- Ampeg SVT-4 PRO head

- Ampeg SVT 810E 8x10 cabinets




Pedals
- Tech 21 SansAmp Bass Driver DI

- SansAmp RBI (in the studio)

- Fulltone Overdrive




Strings
- Ernie Ball Stainless Slinkys (.050–.105)