Russell Lissack is the lead guitarist of London-based indie rock band Bloc Party. He is also in the band Pin Me Down; a duo of himself and Milena Mepris.

Let's look at some of the gear and equipment that has been seen in Russell's guitar rig.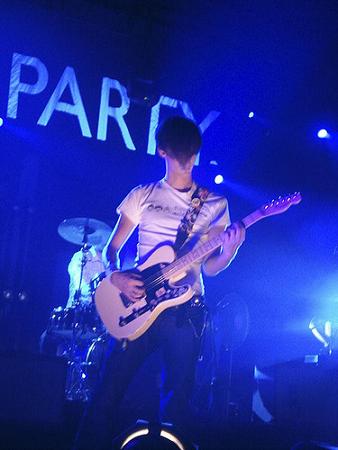 Click the gear images for more info and specs at Guitar Center and Amazon

Guitars
Guitar info from wikipedia
- Fender Telecaster – Lissack's main guitar; used in almost all live songs. An American Honey Blonde model, more commonly known as an American Ash Telecaster that features an array of stickers, including Pokémon and Disney characters. The strap is covered with countless badges, including the one that the Spanish band TvToys gave him on Bloc Party's last concert in Madrid.
- Fender Telecaster – White, white pickguard, maple fretboard, several Family Guy badges on strap.
- Fender Telecaster – White, mint green pickguard, rosewood fretboard. Probably a Fender 60's Classic Series Telecaster.

- Fender Telecaster Custom – Bubble-gum pink, as seen in the video for "Little Thoughts".
- Fender Telecaster Custom – Black, maple fretboard, 1 humbucker and 1 single coil bridge pickup, flashing LED lights on pickguard. Used on "Uniform" live, and seen in the Hunting for Witches video. Features the unusual modification of a children's toy fitted next to the guitar's pickups, which produces a series of futuristic sound effects when activated from a switch on the pickguard. These sounds are picked up by the guitar's humbuckers and are amplified as normal.

- Gibson Les Paul – Sunburst. Used in the studio for "Uniform". Not seen live.
- Epiphone SG – White, used earlier in the band's career.

- Fender Jaguar – Blue, tortoise shell pickguard, used earlier in the band's career.

- It has also been suggested that he has an affinity for multicoloured fake Stratocasters.



Amps and Cabinets
- Fender Hot Rod Deluxe





Effects and More
Russell has a ton of pedals. We've seen photo's and he has a very large pedalboard. Note he doesn't use everyone of these pedals at the same time. He does use many at once though.
- BOSS LS-2 Line Selector

- BOSS DD-6 Delay (Four in a series rig)
- BOSS DD-5 x2 (1 set to reverse) Delay
- BOSS DD-3 Digital Delay

- BOSS OS-2 Overdrive/Distortion
- BOSS DS-1 Distortion
- BOSS DS-2 Turbo Distortion
- BOSS PS-5 Super Shifter. x2
- BOSS PW-10 Wah
- BOSS TR-2 Tremolo
- BOSS TU-2 Tuner
- BOSS RV-5 Reverb
- Electro-Harmonix Big Muff
- Electro-Harmonix Deluxe Memory Man

- Ernie Ball 6165 Stereo Volume/Pan Pedal
- Electro Harmonix POG PolyPhonic Octave Pedal
- Electro Harmonix Bass Micro Synth
- Dunlop CryBaby Wah pedal
- Ibanez Weeping Demon Wah

- Korg Kaoss Pad

- DigiTech  Whammy

- Pro Co Rat
- E-Bow

- THD Hot Plate Attenuator (purple)