Doug Pinnick is an American musician known as the bass guitarist, songwriter, and co-lead vocalist for the hard rock/progressive metal band King's X.

Regarded as having one of the most distinctive and soulful voices in rock, Doug is highly sought after as a guest vocalist and collaborator by many other bands and musicians. He currently has 12 albums with King's X, 4 solo albums, and numerous side projects and guest appearances to his credit.

Let's look at some of the gear and equipment that has been seen in dUg's bass rig.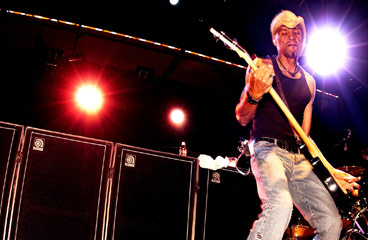 Click the gear images for more info and specs at Guitar Center and Amazon

Bass Guitars
- Two custom Yamaha 4-strings (tuned CGCF) with Seymour Duncan pickups
- custom Yamaha 12-string with EMG pickups
- vintage Fender Precision with Seymour Duncan pickups



 

Amps and Cabinets
- Ampeg SVP-BSP preamp
- Ampeg SVT-4 PRO

- Ashdown ABM 900 EVO II heads

- Ampeg 8x10 cabinets (SVT-810E)





Effects
- Behringer EQ700 equalizer pedals
- Boss GE-7 EQ
- Boss TU-2 tuner
- He's used Line 6 POD's before live




Strings
- DR bass strings (.040-.100)