Josh Farro is the guitar player and backup vocalist for the punk band Paramore. Josh is one of the founding members of Paramore.

Let's look at some of the gear and equipment that has been seen in Josh's Paramore guitar rig.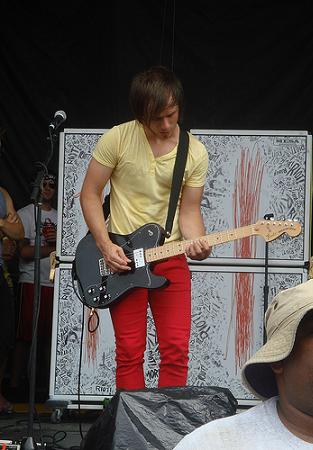 Click the gear images for more info and specs at Guitar Center and Amazon

Guitars
- Gibson Les Paul Classic
- Fender Telecaster 72 Deluxe

- Taylor Acoustic Guitar

- Epiphone Elitist Les Paul Goldtop
- Fender Custon Tele Deluxe (gold sparkle finish, F-hole - his version is custom made for him around 2009)
- Fender '52 American Vintage Series Tele

- Burns London Double Six 12-string guitar (studio - bridge of "Brick by Boring Brick")
- Fender Jazzmaster



Amps and Cabinets
- Marshall JCM2000 Dual Super Lead
- Mesa Boogie Dual Rectifier

- Mesa Boogie custom made Cabinets

- Marshall 1960A Angled 4x12 Cab

- Marshall JTM 45 (studio - bridge of "Brick by Boring Brick")
- Marshall JCM800 amps, including Slash model and the 800 used on Green Day Dookie album (used on Brand New Eyes album)
 

Effects and More
- Mogami Cables
- Boss TU-2
- Boss DD-20 Giga Delay
- Digitech Whammy Pedal

- Ernie Ball Volume Pedal JR.
- Voodoo Lab Pedal Power
- George L cables for pedalboard
- Keeley Katana pedal (used on "Turn it Off")

- Line 6 Verbzilla (borrowed and used on "The Only Exception" along with his DD20)

- Sennheiser ew372 G2 wireless
- EHX pedal (appears to be a Neo Clone)

Strings
- D'Addario EXL110 Regular Light 10-46 gauge guitar strings (listed on D'Addario as being a user, beginning in 2009)