Rich Robinson is a musician and a founding member of the rock group The Black Crowes in which he plays the guitar.

Rich also has put together other side projects when he isn't playing with the Black Crowes, including Hookah Brown and Circle Sound.

Let's look at some of the gear and equipment that has been seen in the Black Crowes' guitar players rig.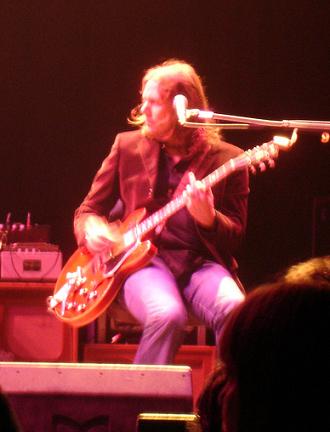 Click the gear images for more info and specs at Guitar Center and Amazon

Guitars
- 1969 Gibson Goldtop Les Paul Standard

- 1968 Gibson SG Special

- 1964 Gibson ES-335

- 2006 Gibson Custom Shop Les Paul Special (with Lollar P-90s)

- 1969 and 2006 Dan Armstrong Plexi guitars (with Tom Holmes pickup)
- 2005 Zemaitis Disk Front
- 2005 Zemaitis Diamond (with custom DiMarzio pickups)
- 2006 Zemaitis Metal Front Duo Cut (the MF500 pictured below)
- 2007 Zemaitis Disk Front #2
- James Trussart Steeltop prototype and Steeltop (with TV Jones Filter'Trons)
- James Trussart Steel Deville
- James Trussart Steelcaster (with custom DiMarzio pickups)
- 1962 Gretsch White Falcon

- 2007 Fender Custom Shop '56 Stratocaster reissue

- 1968 Fender Telecaster
- Fender Telecaster (with B-Bender)
- 1994 Fender Custom Shop Telecaster (Black Deluxe)

- 2005 Fender Mary Kaye Stratocaster (with custom DiMarzio pickups)
- '90s Zitlau (Supro-style with korina body and two humbuckers)
- Bill Asher lap-steel
- Sadowsky nylon-string solidbody
- Rickenbacker 360/12C63
- Gibson Dove

- Guild 12-string

- Taylor 6-string and 12-string guitars

- 1929 National Duolian



Amps and Cabinets
- Harry Joyce Custom 50 (3)
- 65 Amps Royale Albert amplifier (2)
- 65 Amps 2x12 (2)
- 65 Amps 4x12 (2)
- 65 Amps Custom 2x15
- Fender Reverb head



Effects and More
- Custom Audio Electronics Switching System
- Ernie Ball Volume

- Vox wah
- Demeter Tremulator
- Moog Moogerfooger MF-103 12-Stage Phaser

- Hughes & Kettner Rotosphere

- Pro Analog Dual Driver
- Fulltone Full-Drive 2
- CAE/MXR Boost+Overdrive
- Dunlop UniVibe
- DOD Echo FX/96
- Headstrong Tube Reverb/Vibrato
- Fulltone Tube Tape Echo (x2)
- DigiTech Whammy Pedal

- Line 6 DL4
- Boss TR-2 Tremolo
- Peterson StroboStomp
- Pete Cornish buffered line selector
In the summer of 2009, the following additional gear was seen in Rich's guitar rig (and some of it in place of the above gear):
- Axess Fx1 Floor Controller
- 2 RJM Effect Gizmos (x2)
- Voodoo Lab Pedal Power AC and 2 Plus boxes
- Voodoo Lab Micro Vibe

- Tone Freak Effects Mello Tremo
- Pro Analog Dirt Royale
- Dunlop Crybaby Wah (modded)
- Boss FV-500L Volume pedal



Strings and accessories
- GHS Sub-Zero Boomers .010-.046 (electric guitars)

- GHS Bright Bronze Extra Light (acoustic guitars)

- Gibson Vintage Reissue Strings (.010's)
- Shubb capos
- Dunlop Heavy Brass Slide