Hanzel Und Gretyl are an industrial metal group, formed by members Kaiser Von Loopy and Vas Kallas. They formed in 1993, sharing a vision of the future that focused on the rise of machines to power over Earth. They are often mistaken for a German band due to their heavy use of German lyrics and German sounding pseudonyms, but are actually based in New York, to which founding members Kaizer Von Loopy and Vas Kallas are native.

One of our readers asked us if we could find out what guitar gear the band uses and we were able to find an email Loopy wrote to a fan in 2008 describing his gear setup. It appears that Loopy's rig started off a bit more grandious in the past with Mesa amps, eventually moving to just a rack, and then pod xt boards.
If you have any info to add/correct here, please leave a comment.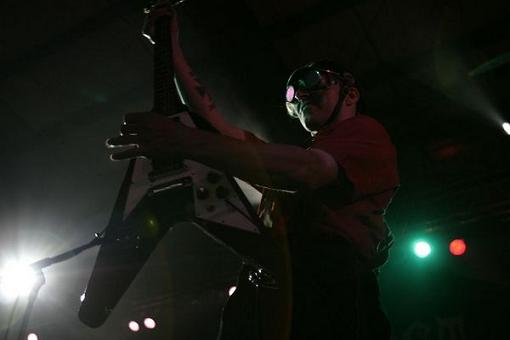 Click the gear images for more info and specs at Guitar Center and Amazon


Guitars
- Gibson guitars (New Century Flying V, Les Paul,, etc...)

- Used to use EMG pickups but now just uses the stock pickups in the New Century



Amps and Cabinets
Amp setup:
- Mesa Boogie Triple Rectifier



- Mesa Boogie Rectifier Cabinet



- looks like he may have used Marshall heads and cabs in the past


Effects
Previous Rack Setup:
- Tech 21 sans amp rack
- Drawmer gate

- Rack Power Amp by Stewart
- BBE (the red rack)



Newer setup:
- POD XT Live floor pedals

- Airline Wireless Units