Peter Iwers is the current bass player of the Swedish band In Flames. He has played in In Flames since their 1999 album Colony, replacing Johan Larsson.

Let's look at some of the gear and equipment that has been seen in Peter Iwers bass guitar rig.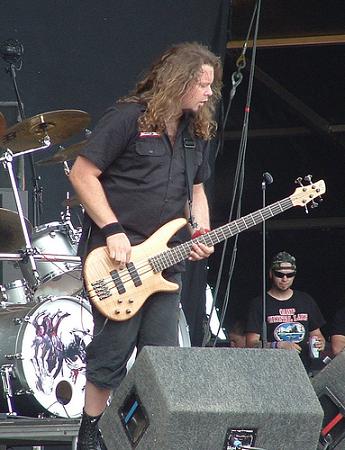 Click the gear images for more info and specs at Guitar Center and Amazon


Bass
- Ibanez PIB1 and PIB2 signature Peter Iwers bass guitars

- Ibanez SR-1005 EFM with Bartolini pickups



Amps and Cabinets
- Ampeg SVT-4PRO with Ampeg 8x10 cab (American tours)
- EBS Fafner amp with EBS-115 speaker cab or EBS Classic 8x10" cabs (European tours)
- Ampeg SVT3 and Ashdown ("A Sense of Purpose" recording)



Effects
- MXR Dimebag Distortion

- Dunlop MXR M-80 Bass D.I.

- Boss NS-2 Noise Suppressor
- Ashdown James LoMenzo HyperDrive pedal

- Shure UR4D+ Dual wireless receiver
- Korg DTR 2000
- Furman PL Pro
- MXR / CAE MC-403 Power System
- Lehle 3at1 SGoS

- MXR Phase 90
- MXR Smart Gate




Strings
- Dunlop .45 to .130 gauge bass strings

- DR bass Strings gauges .045–.120