Michael Angelo Batio is an American virtuoso guitarist and columnist from Chicago, Illinois. Guitar One Magazine voted Batio the fastest guitar player of all time. MAB was also mentioned and listed recently in Guitar World Magazine in an article where he was listed as one of top 50 fastest guitarists in the world.

Lets look at some of the gear and equipment that has been seen in Batio's guitar rig.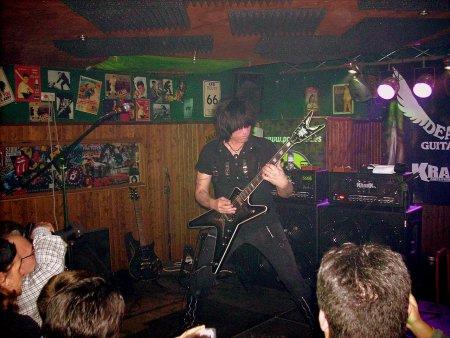 Click the gear for more info and specs at Muscian's Friend

Guitars
- Batio uses Dean guitars. He created a signature Dean guitar called the MAB 1 Armorflame. Google the armorflame - it looks awesome.
- Dean Michael Angelo Batio USA Limited Electric Guitar

- Dean Michael Angelo Batio Speed of Light Electric Guitar

- Dean Michael Angelo Batio MAB4 Gauntlet Electric Guitar

- Batio created both double and quad guitars. Currently, Dean makes models of each for him.
- Dean "MAB Hands Without Shadows" pickups

- custom made Charvel and Yuriy Shishkov guitars
- Dean Tiger Eve, 24 fret Vendetta
- USA Dean Exotic Spalted Maple Flying V.
- USA Dean Time capsule Blue Burst ML that is no. 13 of only 25 made.
- USA Dean Collectors edition Hardtail.
- USA Dean prototype Hardtail.
- Dean "Tiger Eye" Custom 450 modifed with a USA Floyd Rose and DiMarzio pick-ups.
- Custom made USA 29 fret guitar built by Wayne Charvel. The top is made from Military aircraft aluminum. It was designed by MAB and called The "Rocket" Guitar.
- Vintage 1978 USA Dean ML modified with an early 80's Kahler locking trem system.
- Custom USA 24 fret guitar built by Yuriy Shishkov for MAB.
- Custom USA "Swamp Ash" Tele built by Grover Jackson for MAB.
- Vintage 1987 USA "Photon" MIDI guitar with the controller
- 1997 USA custom shop Fender Strat. It has a quilted Maple neck and SRV "Texas Special" pick-ups.
- Godin LGX guitar with MIDI capability.
- Dean Chrome G Resonator Acoustic/Electric.
- Dean 7 string guitar. This is one of MAB's "practice" guitars.
- Dean Tradition S12 12 string acoustic
- Dean Exotica RSE Supreme Acoustic/Electric with a solid Sitka Spruce Top
- Dean Blue Grass F Mandolin

- limited edition Gibson "Reverse Flying V" Guitar
- 1968 Fender Mustang
- 1986 Fender Strat '62 reissue

- Dean Dime-O-Flame ML
- Dean Mach 7 Guitar
- 1993 Stephens extended cutaway acoustic
- USA made Tacoma and Taylor acoustic guitars
- 1997 USA Nuno Bettencourt P3 guitar
- Washburn A-30 electric.
- Ibanez RG series
- 1993 Gibson Les Paul Custom - white

- 1976 Ibanez Flying V




Amps and Cabinets
- Marshall JCM 800
- Marshall JCM 900
- Marshall JCM 2000
- Marshall JMP 1
- Krank amps? There is a picture of him playing Kranks, but not much info out there about this.
- 4x12 Marshall cabinets loaded with Celeston vintage 30s and Greenbacks in mono and stereo



In the studio, he also uses:
- Rocktron Chameleon pre-amp
- Rocktron Voodoo Valve pre-amp



Note: During his years with Nitro, Batio also used Randall amplifiers.




Effects and More
- MAB String Dampener
- T-Rex MAB Overdrive

- Boss DS-1 (Nitro days)
- Boss SD-1 (Nitro days)

- Eventide Eclipse

- Rocktron Intellifex and Replifex units

- Dunlop Cry Baby
- Vintage original prototype Digitech Whammy pedal

- Vintage Digitech 256 multi-FX
- Ibanez TS-9 pedal (used in the past before his custom distortion pedal)




Strings and Picks
- Ernie Ball .009 to .042 gauge electric strings
- Ernie Ball .010 to .046 or .011 to .052 gauge Acoustic strings
- Dunlop Jazz III guitar picks