Chris Cheney is the guitarist and lead vocalist in the Australian rock band, The Living End. A talented guitarist, his trademark Guitar is a Gretsch White Falcon and he uses mainly distortion and modulation effects.

Let's look at some of the gear and equipment that has been seen in The Living End guitar player Chris Cheney's guitar rig. As always, if you have info to add/remove from here, leave a comment.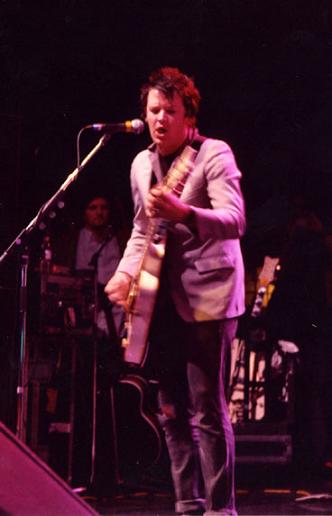 Click the gear images for more info and specs at Guitar Center and Amazon

Guitars
- 2 x Gretsch White Falcon Guitars (Early 90s models 1955 re-issue)

- 1961 Gretsch Double Anniversary (Plus two other vintage anniversary models)
- Gretsch Tennessean (Used on the recording of Hellbound)
- Gretsch 6120 Brian Setzer Signature Series
- Black Gretsch Duo Jet Guitar (sold on Ebay)
- Gibson Firebird (refinished in white)

- Gibson '59 Les Paul Junior Guitar


- Fender Guitars are currently producing a Chris Cheney Signature Series Gretsch Guitar (6126CC). Cheney has been working closely with Fender to refine the guitar. In the video for the song "Rising Sun" Chris uses a prototype of the 6126CC. Changes are currently being made before Cheney gives the go-ahead on the project, most notably the removal of the zero-fret. The prototype was not used in the recording of the song despite featuring in the video clip.
- Gretsch G6118

Amps and Cabinets
- Bogner Vintage 30's Speaker Cabs

- 2 x 100 Watt Wizard Modern Classic Amplifier Heads
- 1 x Fender Supersonic

- 1 x Matchless



Effects and More
- FullTone Fulldrive 2
- Ibanez Tube Screamer

- Line 6 DL4 Delay Modeler
- Dave Ulbrick Custom Drive Pedal
- Boss digital delay
- GCX controller
- custom made foot controller / voodoo lab foot controller



Strings and Picks
- 11 - 14 - 18 - 30 - 46 - 52 Gauge Ernie Ball Stings
- Dunlop Tortex .88 picks