John Myung is a bassist and a founding member of the progressive metal group Dream Theater. John plays some really cool looking 6-string basses, and as you can imagine, being a member of Dream Theater means his chops are top notch.

Let's look at some of the gear and equipment that has been seen in Dream Theater bass player John Myung's bass rig. If you have any updates, leave a comment.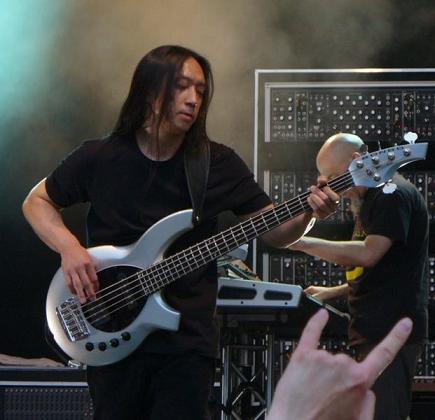 Click the gear images for more info and specs at Guitar Center and Amazon

Bass Guitars
- Yamaha RBXJM2 John Myung Signature 6-string
- MusicMan Bongo 5/6 HS basses (this appears to be his main bass now)

- 12 string Grand Chapman Stick



Effects, Gear and more
- Fractal Audio Axe-Fx Ultra  and  Fractal Audio MFC-101 MIDI foot controller
- Moog Taurus 3 bass pedals

- Little Labs IPB Jr. Phase Adjuster
- Two Demeter HBP-1 preamps
- Demeter VTDB-2B mono tube direct box
- Demeter HXC-1 optical compressor
- Ashdown ABM RPM1 EVO II preamp and ABM APM 1000 EVO II power amplifier
- Pearce BC-1 preamp
- Framptone 3-Banger and Amp Switcher
- Mesa Engineering Big Block 750, Tri-Axis, etc.
- Eventide DSP4000 Ultra-Harmonizer (checkout the newer ultra-harmonizer below)

- Shure UR4D wireless
- Whirlwind Selector A/B box

- Korg DTR-2000 tuner




Strings and Picks
- Ernie Ball roundwound nickel bass strings

- D'Addario round wound EXL170-6 strings gauges (.032, .045, .065, .085, .105, .130)

- heavy-gauge Dunlop Tortex Triangle picks