Bob Weir is a singer, songwriter, and guitarist, most recognized as a founding member of the Grateful Dead. After the Grateful Dead disbanded, Weir played with The Other Ones, later known as The Dead, together with other former members of the Grateful Dead. Weir also founded and played in several other bands during and after his career with the Grateful Dead, including Kingfish, the Bob Weir Band, Bobby and the Midnites, and his current band, Ratdog.
One of Weir's more recent projects has been playing with Dead & Company which is a band consisting of former Grateful Dead members Bob Weir, Mickey Hart, and Bill Kreutzmann, along with John Mayer, Oteil Burbridge, and Jeff Chimenti.

Let's look at some of the gear and equipment that has been seen in Bob Weir's more recent guitar rigs.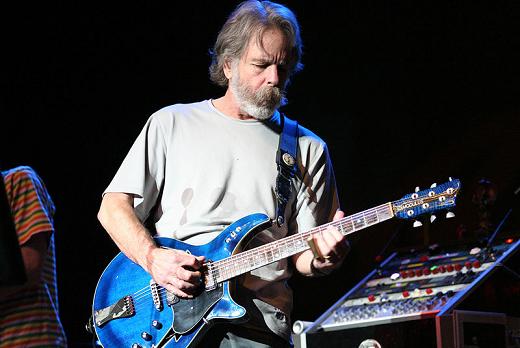 Click the gear images for more info and specs at Guitar Center and Amazon

Bob Weir's Guitars
Any serious Bob Weir fan needs one of his D'Angelico signature model guitars hanging on their wall! Checkout these models:
D'Angelico Deluxe Series Bedford Bob Weir Electric Guitar

D'Angelico Premier Series Bob Weir SS Semi-Hollowbody Electric Guitar with Bigsby B-50

Checkout this video where Bob talks about his awesome D'Angelico signature guitars. Bob says that "somebody had to do it, somebody had to make a guitar that has these features"... The Deluxe Bedford guitar has been getting great reviews for being insanely versatile, thanks to the great pickups in it. The Bob Weir Bedford has two Seymour Duncan P-90 pikcups which sandwich a Lollar Blonde single-coil pickup nestled in the middle of the guitar.
- '59 Gibson ES-335 (tobacco sunburst)

- Modulus G3FH  (custom, blue)
- Alvarez Yairi WY-1 BW Bob Weir Signature Acoustic-electric
- 1956 Fender Telecaster (natural wood/blonde look)

- custom strat style guitar made by Rich Hoeg
- Various other guitars


Bob Weir's Amps and Cabinets
- Mesa Boogie Stereo Rectifier 2: 100 Watt Power Amplifiers
- 2 single 12" cabs with Tone Tubby speakers
- Vox cabinets (speakers onstage are for stage sound - his guitar signal goes to DI)



Bob Weir's Effects and More
- Digidesign Eleven Rack Guitar Multi Effects Processor (2011)

- Vox Tonelab SE Valvetronix
- Switcher (not sure what brand)
- Shure UHF Wireless system
- Furman PL-8 Power Conditioner
- Alesis Mixer
- TC Electronics G-Force
- Acoustical Preamp Circuit prototype
- TC Electronics Acoustic Effects

- Roland midi foot controller for TC (not sure model)
- A big Occiliscope
- Avalon VT-747SP
- Line 6 Pod Pro

- Gibson Echoplex Digital Pro Plus
- Palmer ADIG-ST
- Rane SM82
- Ebtech Hum Eliminator

- Neumann KMS-105 mics

- Lectrosonics R400 wireless
- Electro-Harmonix Bi-Filter
- Meyer CP-10 Equalizer
- Pigtronix Bob Weir's Real Deal acoustic preamp pedal




Bob Weir's Strings and Picks
- red nylon jazz I picks by Jim Dunlop (the Jazz III is pictured below)
- PYRAMID GOLD PURE NICKEL FLAT WOUND STRINGS:
.010 - .0465 w/.0165 plain G 3rd and the wound G 3rd. 
.011 - .0465 w/ wound G 3rd. 
.013 - .052 w/ wound G 3rd.