Alex Skolnick is a jazz and metal guitarist. He's a member of the thrash metal band Testament from its formation in San Francisco in 1983 until his left the band in 1992. Alex joined the band Savatage for the recording of Handful of Rain, as well as its follow-up live album and home video release Japan Live '94. He has also recorded and briefly toured with the Stu Hamm band, and played with the Trans-Siberian Orchestra. In 2004, Skolnick made a guest appearance on Lamb of God's Ashes of the Wake album.

Most recently, he has been touring and recording with the Alex Skolnick Trio, a jazz group known for playing rousing bebop renditions of classic rock and heavy metal tunes.

Let's look at some of the gear and equipment that has been seen in Skolnick's jazz and metal guitar rigs.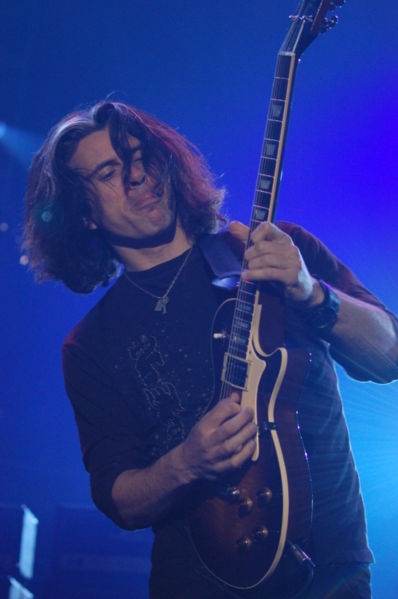 Click the gear images for more info and specs at Guitar Center and Amazon


Guitars
- Heritage Skolnick signature guitar (built in same plant that Gibson used to be built at, by many of the same builders). Flame birdseye maple. Rosewood fingerboard. Mahogany body. Seymour Duncan 59 JB pickups. Used with Testament.
- Heritage H-575 jazz guitar
- reissue '60 Gibson Les Paul goldtop

- Heritage H-150 solidbody
- blonde '76 Gibson L-5

- Yamaha JSX series acoustic
- Yamaha nylon string TX 2000 acoustic



Amps and Cabinets
- Marshall Mode 4 amplifier head (used with Testament)
- signature Budda combo amp based on their 40 superdrive series model (Skolnick trio)
- Tech 21 Trademark 60 amplifier
- Fender Vibrolux

- Peavey Cabinets (celestion speakers)
- Marshall JCM 2000
Effects and More
- Ernie Ball Volume Pedal

- Boss DD-20 Giga Delay
- ADA Flanger reissue
- Prescription Electronics Experience fuzz/octave pedal
- Ibanez Tube screamer TS9 pedals (Keeley modded)

- Moollon Signal Boost pedal
- Boss TU-2
- MXR EVH Phase 90
- MXR Carbon Copy
- Planet waves Cables and Tuners
- JAM Pedals TubeDreamer 88 and Delay Llama pedals
- Crazy Tube Circuits Time delay
Strings
- D'Addario EHR360 Half round Jazz Medium strings with a .013-gauge high E (also uses these with Testament)
- D'addario EXL115 11-49 gauge strings