C. C. DeVille is best known as the lead guitarist of the American glam metal band Poison. He has also acted in both reality television and television drama shows.

A fun side note is that in 2004 Guitar World gave C.C the tile of Worst Guitar Soloist of All-Time.

Seeing as the whole VH1 Rock of Love show has reignited the band Poison, let's look at some of the gear and equipment that has been seen in C.C. Deville's guitar rig. As always, feel free to add to the list (leave a comment).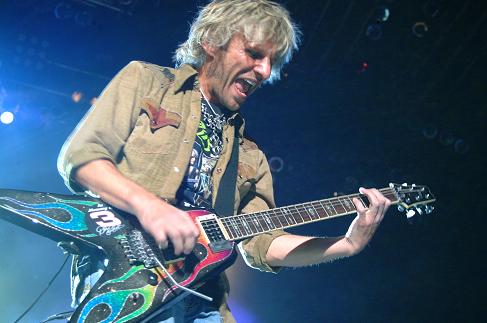 Click the gear images for more info and specs at Guitar Center and Amazon

Guitars
- GMP V Series guitar (no longer made)
- Matty Baratto Flying V
- custom-made Strat with disco-ball mirrors on it
- ESP Les Paul with a whammy bar
- Washburn guitars - Strat-style N-2 and a lime green (Dime Slime) Dimebag Darrell Signature Model



Amps and Cabinets
- Crate amp heads and cabs (looks like Crate VTX Series VTX200SH)
- Peavey Triple XXX amp heads (used for bigger venues) 
- Marshall JCM 800 head
- various 4x12 cabinets
- Matchless SC-30 into a Wizard 2x12 cab
- Soldano Hot Rod 100 head (he borrowed one of these for a tour)

- Carvin Legacy head



Effects and More
- Rocktron Hush IIC noise gate

- Home Brew Electronics HBE "Power Screamer" Overdrive Pedal (listed as a user)
Note: C.C. Deville has stated he doesn't like to use pedals and prefers direct to the amp. However in Poison he used more pedals/rack gear.



Strings and Picks
- Dean Markley strings (.010 - .046 gauge set)
- Dunlop 1.0mm picks