Nikki Sixx is an American bassist, author, photographer, and the main songwriter for the heavy metal band Mötley Crüe. He has also played bass for glam metal band

London, the experimental band 58, the hard rock band Brides of Destruction, and Sixx:A.M.

Let's look at some of the gear and equipment that has been seen in Nikki Sixx' bass guitar gear rig.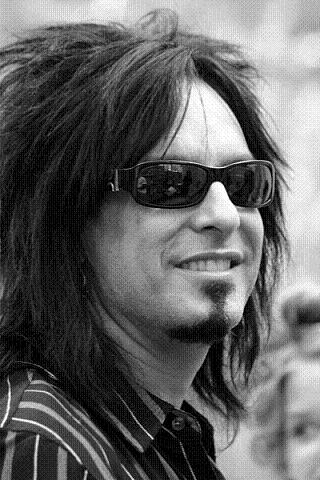 Click the gear images for more info and specs at Guitar Center and Amazon

Nikki Sixx's Bass Guitars
- Nikki Sixx "Schecter Sixx" signature Bass Guitar
- Gibson Thunderbird Reverse Basses

- Gibson Nikki Sixx Signature Blackbird (Epiphone makes this now after Gibson stopped producing in 2003)

- Ovation Celebrity NS28 Nikki Sixx"Heroin Diaries" Acoustic-Electric Guitar

- Ovation Nikki Sixx Custom Elite T Bass Acoustic-Electric
- Spector Basses
- Hiroshigi Kids Guitar Company 12 string basses
- Ernie Ball Music Man 5-String basses
- Fender Precision Basses when smashing basses at the end of a set. They are usually black Squier Precision Basses with white pickguards.

- '59 Fender Precision

- Hamer Firebird basses
- Guild custom bass
- BC Rich basses
- Hamer basses



Nikki Sixx's Amps and Cabinets
- Basson 810B 8x10" 2000 watt bass cabs
- Ampeg SVPCL preamps
- Ampeg SVP1600 power amps
- '64 Fender Bassman




Nikki Sixx's Strings
- Dean Markley Nikki Sixx Helix HD SS Bass Strings

- Labella bass strings
- Herco Flex-75 picks (black with custom imprint)