Kim Thayil is best known as the guitarist for Seattle-based grunge band Soundgarden, which he founded with Chris Cornell and Hiro Yamamoto in 1984. Thayil was named 100th best guitarist of all time by Rolling Stone Magazine.

Let's look at some of the gear and equipment that has been seen in Kim Thayil's Soundgarden guitar rig. We'll give a list of gear he played throught Soundgarden's career.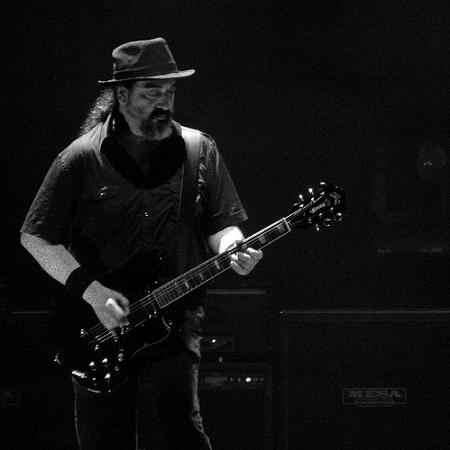 Click the gear images for more info and specs at Guitar Center and Amazon

Guitars
- Guild S-100 and S-300 guitars (including some 90's reissues and original ones from 70's)
- Gibson SG

- Gibson Les Paul Custom Lite (black)
- Gibson Firebird (black. Also has a red 90's reissue one.)

- '57 Fender Telecaster

- Fender Telecaster (black with rosewood fretboard)
- Fender Jazzmaster

- Gibson 1966 ES335 Trini Lopez (used on "King Animal" for "By Crooked Steps")
- Gretsch Duo Jet (one of the multiple guitars used on "King Animal")

Amps and Cabinets
- Mesa Electra Dyne amps (seen 2010)


- Mesa vintage Tremo-Verb 2x12 combo amps (2010)
- Mesa Boogie Stiletto 4x12" Slant cabinets (2010)
- Mesa Boogie Dual Rectifier

- Peavey VTM 120's, aka 5149's, the same head EVH used,and based the 5150 on. Also Peavey Cabinets.
- Music Man HD130
- Mesa Boogie 50-watt Mavericks
- Fender Super
- Orange Head
- Fender Twin Reverb

- Fender Vibro-Kings

- Marshall Cabinets

Effects and More
- MXR MC404 CAE Crybaby Dual Inductor Wah
- Boss Chromatic Tuner
- Electro-Harmonix Micro POG
- EHX XO Deluxe Memory Man

- Hughes & Kettner Tube Rotosphere (MK I)

- MXR chorus
- Intellitronics LA-2
- Summit DIs

- Colorsound wah
- Jim Dunlop Rotovibe
- Mu-Tron
- Boss CE-2 Chorus pedal
- Arion Stage Tuner
- Ibanez CS-9 chorus
- DOD fx10 Bi-fet Preamp
- DOD flangers
- Mesa Switching pedals
- T-Rex Reptile pedal

- T-Rex Engineering Tap Tone Delay Guitar Effects Pedal

- Boss DD-7 Delay pedal
- Providence PEC-2 routing system
- MXR CAE Boost-Line Driver

- MXR CAE Boost/OverDrive pedal
 -Boss NS-2 pedal
Strings and Picks
- GHS electric strings (9 through 46 gauge)
- Ernie Ball Super slinky strings (.009 to .042)
- Dunlop .73 nylon picks