Neal Schon is a guitar player that does not need much of an intro. In case you don't know who he is though, he is the guitar player for the rock band Journey.

Neal Schon has been playing for quite a while so naturally there is a lot of rig info out there. We found a more recent picture of his rig and he uses 5 amp heads and at least 3 Marshall power amps. This guys rig is nuts!!

Neal Schon was also selling a lot of his rig at Bananas at Large, so we got to see some of the exact stuff he owns/owned.
Let's look at some of the gear and equipment that has been seen in Journey's Neal Schon's guitar rig.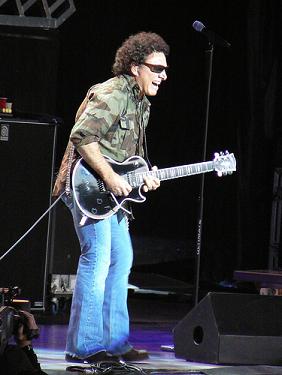 Click the gear images for more info and specs at Guitar Center and Amazon

Guitars
- Gibson Neal Schon signature Les Paul
- Gibson '56 Les Paul Goldtop

- Fender Masterbuilt Greg Fessler '63 Strats
- PRS guitars

- G&L guitars
- Fender Eric Johnson Strats

- Gibson custom Flying V

- Gibson SG

- Gibson ES-335

- Ibanez George Benson Hollowbody

- Roland GK-2a Synth Pickups

- Fernandes' SUSTAINER on most of his Gibson and PRS
- Veillette 12 string acoustic



Amps and Cabinets
- Blackstar Series One S1-100 heads and cabs

- Hiwatt Custom 100 head

- Diezel VH4 heads

- 2 Fender heads
- Marshall JCM 1000 head (Alien Design PowerSupply Cooling Modification)
- Marshall 1987X amp head
- 3 Marshall EL-34 100/100 power amps
- 3 Marshall JMP-1
- Marshall 4x12 cabinets (straight cabs)

- Fender CyberTwin
- Fender '64 Vibroverb
- Leslie
- Marshall JCM800 2203 head (modified)
- Marshall JVM head

Effects and More
- Fractal Audio Axe-FX II
- TC Electronic G-System
- Furman Power Conditioners
- Boss GT-6

- Eventide Eclipse

- PHI Electonics pedals made by Scott Appleton
- VHT Valvulator
- Dunlop 535Q Crybaby Wah pedals (Buddy Guy wah, 535Q, and others - he collects them)
- Boss compressor
- Dirty Boy Germanium Fuzz
- Landgraff MO'D
- Framptone 3 Banger
- A/B box
- Boss DS-1
- Digital Echoplex for looping
- Boss RC-50 loop station

- Vox Satchurator
- Xotic AC Booster pedal

- Xotic RC Booster Pedal

- Voodoo Lab Pedal Power



Strings and accessories
- D'Addario XL 9/42 series guitar strings
- Levy's wide leather straps

- Original StrapLok System by Dunlop