Martin Mendez is the bass guitar player for the progressive death metal band Opeth.

Mendez was also a member of several other bands, some with friend and former Opeth drummer Martin Lopez, including Fifth to Infinity, Proxima and Vinterkrig.

Let's look at some of the gear and equipment that has been seen in Opeth's Martin Mendez's Bass Guitar Rig.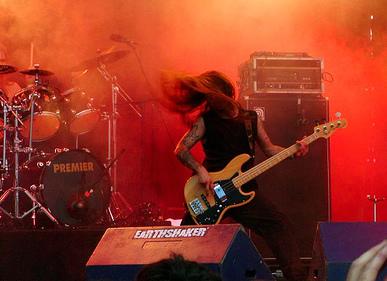 Click the gear images for more info and specs at Guitar Center and Amazon

Bass Guitars
- Fender American Deluxe Jazz Bass

- Fender Marcus Miller Signature Jazz Bass (natural)
- Fender Sunburst Jazz bass American series

- Fretless Fender Jazz Bass

- Fender American Deluxe Jazz Bass V  (Montego Black with Rosewood neck)

- Sandberg basses



Amps and Cabinets
- Fender TB-1200 Head

- Fender 810 PRO Cabinet

- Laney Nexus-Tube all valve bass head
- Laney NX810 cabinet
- Ampeg 8x10 Cabinet
- Ampeg SVT Classic Head

Effects and More
- Boss GT-6B Bass Multi-Effect

- Line 6 Bass Multi Effect Pedal Board



Strings
- D'Addario Roundwounds



Note: Mendez says he always plays with his fingers, not picks.