Mikael Åkerfeldt is a Swedish musician, best known as the current lead singer, lead guitar player and songwriter of progressive metal band Opeth, and lead singer of death metal band Bloodbath.

One most excellent thing is that Åkerfeldt is said to be the basis for the character Toki Wartooth from the popular cartoon Metalocalypse!

Let's look at some of the gear and equipment that has been seen in Akerfeldt's guitar rig.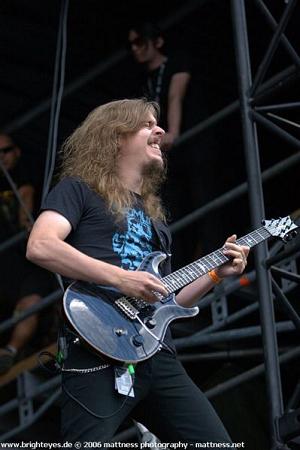 Click the gear images for more info and specs at Guitar Center and Amazon

Guitars

Electric Guitars

- PRS Custom 24 guitars (Tortoise Shell Flame Top, Blue Flame Top, Black Quilt, Black...)

- Paul Reed Smith SE Mikael Akerfeldt Electric Guitar

- Gibson Flying V ('67 Reissue)

- Fender Stratocaster 1975 (Black)
- Fender Stratocaster 1972 Reissue (Black)

- Gibson Les Paul Standard (Tobacco Sunburst)
- B.C. Rich Mockingbird (Black)

- PRS 22 Fret Modern Eagle (Grey Flame Top)

- PRS Modern Eagle Single Cut 24 Fret (Wine Flame Matt Top)
- Gibson SG Standard 1961 Reissue

- PRS Custom 22 12-String (Black)
- PRS Custom 22 Single Cut (Black Quilt)
- Randy Rhoads (Used In The Orchid/Morningrise Era)




Acoustic Guitars/Classical Nylon

- Amalio Burguet 3am (Cedar Top)
- Landola CT/2/W.

Acoustic Guitars/Steel String

- CF Martin 000-28 guitar
- Takamine EF385 (12string)

- Seagull S6CW (With Fishman Pickup)

- CF Martin 00016GT (With Fishman Pickup)



Amps and Cabinets
- Marshall Vintage Modern amps (2012)

- Laney GH100L (also has used VH100L amps)

- Laney Lionheart L20H (according to Laney site, used on Watershed album. Also seen live.)
- Laney VC30
- Fender 1000 Rocpro
- 2 Laney 4x12 Cabinets
- Marshall straight and angled 4x12 cabs

- Marshall JCM800 2203 head (studio for "Heritage" album)



Effects
- Fractal Audio Axe-Fx
- BOSS GT-6 and/or GT-8
(pictured below is the Boss GT-100, newer version)

- Furman Power Conditioner
- Korg DTR Rack Tuner
- Sennheiser wireless
Strings
- D'Addario 010-046 gauge guitar strings
- Thomastik 011 acoustic guitar strings

- D'Addario J45 or 46 classical guitar strings