Mark Stoermer (also known as Mark August Störmer) is the bassist for the rock band The Killers.

Stoermer's previous bands include Habit Rouge, and the Negative Ponies with whom he played guitar. He got to know the band The Killers in 2002 and was a temporary bass player off and on throughout the year. He officially joined The Killers later that year, after Ronnie Vannucci Jr. joined the band on drums. Although now primarily a bassist, Stoermer plays guitar during live performances of For Reasons Unknown. He is also known for his very deep voice.

Let's look at some of the gear and equipment that has been seen in The Killer's Mark Stoermer's Bass Guitar Rig.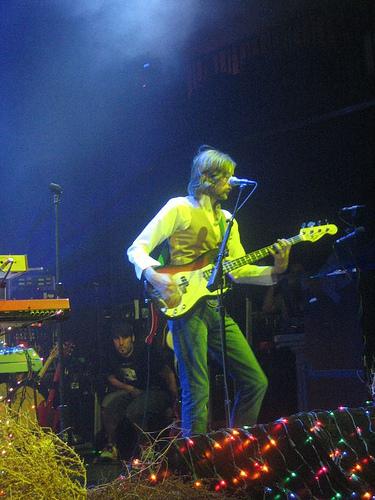 Click the gear images for more info and specs at Guitar Center and Amazon

Basses and Guitars
- Vintage Fender Precision Basses

- American-made stock 2004 Jazz Bass

- Fireglo Rickenbacker bass
- Geddy Lee signature Fender Jazz Bass

- Gibson SG guitar

-  Hofner 500/1 bass

Amps and Cabinets
- Ampeg SVT classic bass amp

- 400 watt Hiwatt Bass head
- 8 x 10 Ampeg Cabinet
- 2 4x10 1x15 Hiwatt Bass Cabs
- Fender Hot Rod Deville guitar amplifier




Effects and More
- Boss DS-1 distortion (to beef it up)
- Boss GE-7 EQ pedal (to take out some of the treble)
- Sovtek Big Muff pedal (live on "Andy, You're a Star.")




Strings
- medium-gauge GHS Boomers bass strings