David Keuning is the guitarist for the American rock band The Killers. In 2000 Dave moved to Las Vegas because he felt he was missing out on great shows while living in Iowa. He worked at The Venetian for a while before finally starting the band The Killers. Good thing for us music heads that he did!

Let's look at some of the gear and equipment that has been seen in The Killers guitar player Dave Keuning's Guitar Rig.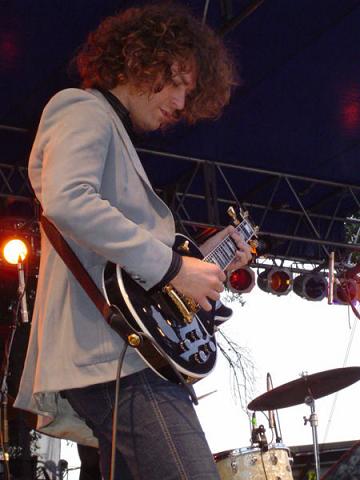 Click the gear images for more info and specs at Guitar Center and Amazon

Guitars
- Fender Starcaster (looks like a Gibson Vegas, Also in the "For Reasons Unknown" video)
- Ibanez Destroyer (looks like a larger Gibson Explorer)
- Red Epiphone G-400 used in the early days

- Gretsch White Falcon (seen in the "Bones" music video)

- Ebony Gibson Les Paul Custom

- Fender Stratocaster candy apple red, most likely an American one
- Gibson SG Supreme in the "Read My Mind" video
- Gibson ES-335 dot ebony

- Gibson Flying V

- Songhurst double tone



Amps and Cabinets
- Hiwatt Gilmour 100 head and Hiwatt 4x12 cabs

- Fender Hot Rod Deville used in junction with an angled Hiwatt cabinet



Effects and More
Note: some of his pedals are Keeley modded. Also, Dave's pedals are in a rack.
- Boss DD-6 (for longer delay)
- Boss EQ pedal
- Boss TU-2 tuner pedal
- Boss CE-1 chorus pedal
- Ernie Ball Volume Pedal

- MXR Phase 100 pedals
- Digitech Whammy

- Ibanez Analog Chorus
- 2 Ibanez TS-9 Tube Screamers on different settings (keeley moddded)

- Dunlop Classic Wah (keeley modded)
- Furman Power Conditioner
- Voodoo Lab GCX Switchers
- Voodoo Lab Pedal Power 2 Plus
- Axess Electronics CFX4 Control Function Switcher
- Fishman Aura Dreadnought

- T-Rex Room-Mate pedal

- Tone Freaks Buff Puff
- Ibanez RC99 Analog Chorus (Keeley mod)
- Ibanez AD99 Analog Delay pedal (Keeley mod)
- Boss TR-2 Tremolo pedal (Keeley mod)
- Electro Harmonix Big Muff pi (Sovtek version)