Jesper Strömblad is the guitarist and founder of the Swedish melodic death metal band In Flames.

Strömblad is currently the bassist and a guitarist of Dimension Zero, a side project which he started with former In Flames guitarist Glenn Ljungström. Strömblad is also currently a member of another side project he started called All Ends, for which he and his In Flames bandmate Björn Gelotte both write the music for.

Let's look at some of the gear and equipment that has been seen in In Flames Jesper Stromblad's Guitar Rig.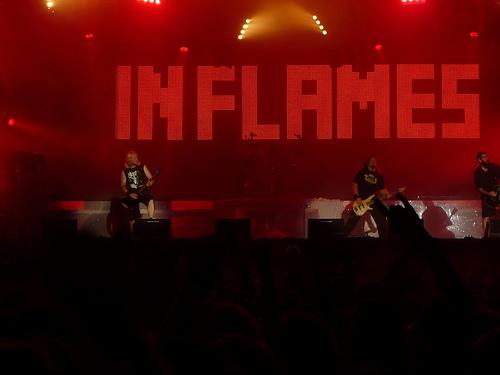 Click the gear images for more info and specs at Guitar Center and Amazon

Guitars
- Cort Z-Custom 2 guitar
- Gibson Voodoo Explorer (gibson discontinued. Check out the regular explorer below)

- Gibson Flying V (white)

- Gibson Voodoo Flying V (gibson discontinued)
- EMG active pickups (81/85)

- ESP LTD EX-400BD
- Gibson Les Paul Custom (EMG 81 in bridge)

- Ibanez Glaive custom
- ESP Eclipse (black)

- ESP Jesper Stromblad EX





Amps
- ENGL amps and cabinets (Savage 120)

- Peavey 6505 amplifier head
- Peavey 6505 Slant and straight cabinets
- Peavey 5150 II (used to use a + also)



Effects
- Line 6 POD XT Pro