Jasin Todd is a guitarist and a former member of the band Shinedown. He is originally from Lake City, Florida. His interest in music was sparked at the age of nine when his mother bought him a guitar from a pawn shop.

In October 2004 he married Melody Van Zant, the daughter of rock and roll legend Ronnie Van Zant.

Let's look at some of the gear and equipment that has been seen in Jasin Todd's guitar rig.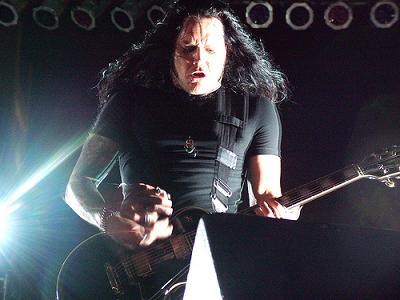 Click the gear images for more info and specs at Guitar Center and Amazon

Guitars
- Gibson Les Paul standards (including a '59)

- Gibson SG

- Gibson Flying V

- Mcnaught guitars
- Washburn HB35
- Fender american made telecasters

EMG 81 (bridge) and 85 (neck)

- Gibson ES-335

- Gibson ES-336
- Gibson Firebirds

- St. Blues Guitar
- Washburn/Boogie Street Guitars 'Boogiebolt'
- Warrior guitar
Amps and Cabinets
- Diezel VH4

- Marshall JCM 800
- Fender Twin amplifier
- Old Orange amps
- Roccaforte amp
- Diezel cabinets
- Marshall mode four
- Marshall cabs

- Splawn Pro-mod amplifier


Effects and More
- TS Various vintage chorus effects
- Dallas Arbiter Fuzz Face
- Maestro Echoplex
- CryBaby wah pedal
- Fulltone Overdrive (Jasin has mentioned this pedal in older interviews. Not sure which model he used, but prob the OCD or Fulldrive)
- Evidence audio cables
- Analog Man NKT sunface (mentioned on analog man site)

Strings
- Ernie Ball, .011-.050 gauge set