Robb Flynn is best known as the lead guitarist and vocalist for the thrash metal/groove metal band Machine Head. Robert formed the band along with Adam Duce, Logan Mader and Tony Costanza after leaving Bay Area thrash titans Vio-Lence.

Flynn also spent a short time in the thrash metal band Forbidden from 1985 to 1987, but left before an album was released.

Let's look at some of the gear and equipment that has been seen in Machine Head's Robb Flynn Guitar Rig.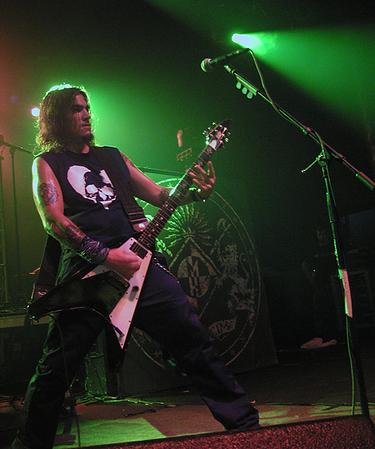 Click the gear images for more info and specs at Guitar Center and Amazon

Guitars
- ESP SP120 V-Shaped baritone prototype with EMG pickup
- Epiphone Robb Flynn "Love/Death" Baritone-V guitar
- ESP LTD F-Series
- Red BC Rich Acrylic Warlock

- Gibson Flying V (w/EMG 81 in bridge)




- Washburn 333 'Dimebolt' (used for recording "Aesthetics of Hate")
- Eric Clapton Yamaha Acoustic (Robb said in an interview it was a yamaha, however our guess is he meant the Martin?)



Amps and Cabinets
- Peavey 6505
- Peavey 5150 (Robb named the best head "Bubba" and used it for recording). Robb has at least eight 5150's.
- Marshall 1960BV cabinets



Effects and More
- Bob Bradshaw custom unit / Custom Audio Electronics MIDI Foot Controller
- MXR Phase 90
-Electro-Harmonix Deluxe Electric Mistress Flanger Pedal
- Boss Chromatic tuner pedal
- Line 6 DL4 delay pedal
- Line 6 MM4 Modulation pedal

- Furman P-1800 AR Voltage Regulator / Power Conditioner

- Ibanez TS-808 Vintage Tube Screamer Reissue

- Dunlop JH-2S Jimi Hendrix Classic Fuzz Distortion Pedal
- BOSS PQ-4 Parametric Equalizer
- Electro-Harmonix Small Stone Phase Shifter
- Digitech XP-100 Whammy Wah

- BOSS CH-1 Super Chorus
- BOSS NS-2 Noise Suppressor
- BOSS DD-3 Digital Delay (2)
- Dunlop DCR2SR Crybaby Rack Wah
- Boss Flanger
Picks
- Dunlop Tortex