Brad Nowell was an American musician who served as lead singer and guitarist of the popular ska punk band Sublime. He died at the age of twenty-eight from a heroin overdose shortly before the release of Sublime's self-titled major label debut.

Let's look at some of the gear and equipment that has been seen in Brad's Guitar Rig to get those awesome sounds that we all remember Sublime had.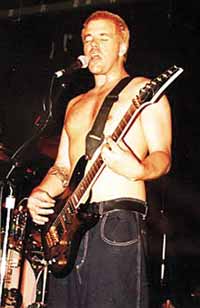 Click the gear images for more info and specs at Guitar Center and Amazon

Guitar
- Ibanez S470 Electric Guitar
- Dan Macdonald Custom Guitar
- Fender Strats (the earlier years)
- Epiphone acoustic


Amps and Cabinets
- Mesa Boogie triple rectifier 1/2 stack (started to use this around '94)




Used these amplifiers pre '94:
- Marshall JCM800 Combo 2x12"
- Roland JC-120 Jazz Chorus Combo 2x12"


- Gallien Krueger amp with x2 2x12" cabs
Effects and More
- Boss DD-3 Digital Delay Pedal
- Boss OS-2 Overdrive Distortion Pedal
- Whirlwind A/B Selector