B. B. King is an American blues guitarist and singer-songwriter. Rolling Stone magazine ranked King the 3rd "Greatest Guitarist of All Time" in 2003.

I think you guys will be surprised how simple King's guitar rig is. He basically just has his guitar going direct to a combo amp.

Let's look at some of the gear and equipment that has been seen in B.B. King's guitar rig.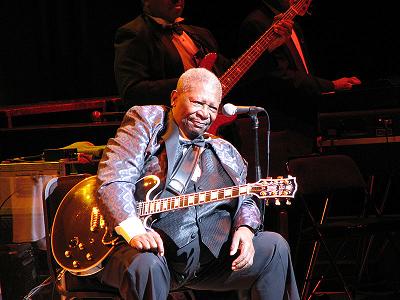 Click the gear images for more info and specs at Guitar Center and Amazon

Guitar
- Gibson Lucille guitar.
Notes: This guitar is modelled after a Gibson ES-355 guitar. The Lucille guitar (and the 355, unlike the popular 335) has a "Varitone" control on it which is a six position rotary switch that applies a notch filter at various high frequencies from high to low as it is rotated from position 1 to 6. The guitar also can operate in mono or stereo modes.
- Tip: If you are low on dough, you can get the Epiphone version of the Lucille guitar

- Fender Esquire tele




Amplifier and Cabinet
- Lab Series L5 2x12" combo amp.
Notes: King has been using this amp for a long time. The amp was made by Norlin Industries for Gibson in the 70's and 80's. Other popular L5 users are Allan Holdsworth and Ty Tabor of King's X. The L5 has an onboard compressor, parametric EQ, and four inputs.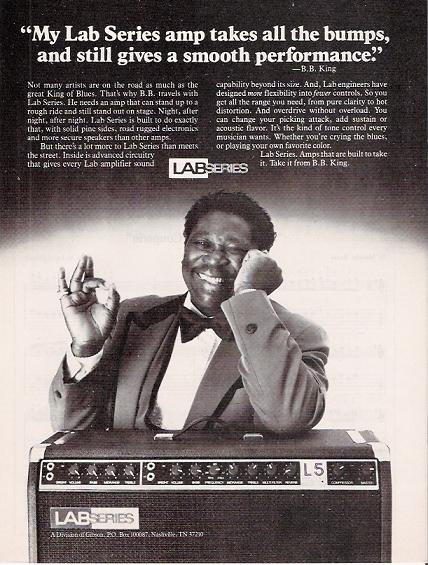 - BB also has used a Fender Twin Reverb

Strings and Picks
- Gibson SEG-BBS B.B. King Signature Electric Guitar Strings. gauges: 10-13-17p-32w-45w-54w

- D'Andrea 351 MD SHL CX (Medium .71mm, Tortoise Shell, Celluloid) Picks