Rex Brown is a bassist, who is best known for his work with the American heavy metal band Pantera from the time the band formed in the early 80's until 2003.

Rex has played on many tracks including ones with Jerry Cantrell.

Let's look at some of the gear and equipment that has been seen in Rex Brown's Bass Guitar Gear Rig.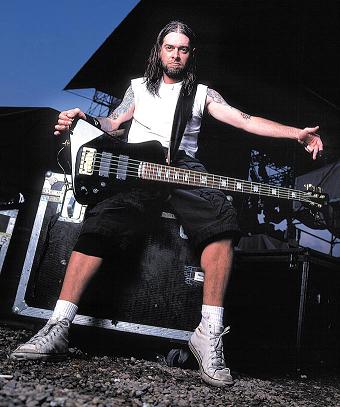 Click the gear images for more info and specs at Guitar Center and Amazon

Basses
- Spector Rex Brown Signature Basses (live and studio)

- various Fender Precision Basses (studio)

- Fernandez 8-string (studio)
- Spector NS-2 bass
- ESP Rex Brown signature bass
- Charvel bass guitars



Amps and Cabinets
- Hartke amps and cabinets (Kilo amp and Hydrive 810 cab)
- Ampeg SVT-4 Pro amplifier Head

- Ampeg SVT-II amp (used along with the SVT-4 on Down III: Over the Under album)

- Ampeg SVT410HE Bass Cabinet with 4x10 speakers

- Ampeg SVT-810AV bass cab (live and studio) with 8x10 speakers




Effects and More
- Boss CH-1 Super Chorus
- Morley PBA-2 Dual Bass Wah

- Korg DTR-1 Rack Tuner
- Rocktron VooDu Valve Preamp Multi-FX

- Ashdown Bass Chorus Plus
- MXR Phase 90
- Musician Sound Design Earthquake Bass Wah
- MXR M-80 BASS DI+ with distortion (reportedly his settings are in the back of the manual)

- Homebrew Electronics HBE Hematoma Bass Overdrive Pre-Amp
Strings and Picks
-  Dunlop Tortex 1mm triangular picks

- medium light Dean Markley Blue Steel bass strings