Rob Barrett is one of the guitarists for the death metal band Cannibal Corpse. He joined Cannibal Corpse in 1993 and left in 1997, but rejoined in 2005. He features on the albums The Bleeding, Vile and Kill. Rob has helped write several Cannibal Corpse songs, including She Was Asking for It, Devoured by Vermin, Stripped Raped and Strangled and Absolute Hatred.
In 1992, he played lead guitar on the landmark death metal album Retribution by Malevolent Creation. Later that year he joined Cannibal Corpse shortly after they had recorded Tomb of the Mutilated and stayed for the subsequent tours and played with the band through 1996's Monolith of Death tour. Although Barrett left in 1997, he rejoined in 2005 to replace Jack Owen, who left to work on his second band Adrift and Deicide. Rob has an endorsement deal with Dean Guitars.

Let's look at some of the gear and equipment that has been seen in Rob Barrett's Guitar Rig.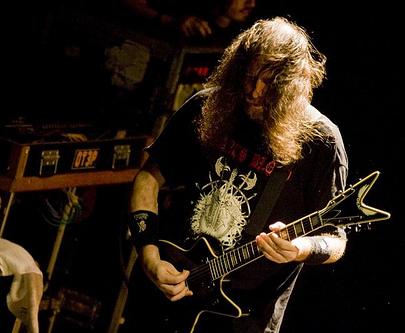 Click the gear images for more info and specs at Guitar Center and Amazon

Guitars
- Dean Caddy (Cadillac) guitars (including one with white binding and inlays)

- 1989 Gibson Les Paul Standard Showcase Edition Silverburst

- 1989 Gibson Les Paul Standard Cherry Sunburst
- Charvel 750XL white guitar (Staring Through the Eyes of the Dead video)
- EMG pickups (Barrett uses an 81/85 combo)



Amps and Cabinets
- Mesa Boogie Dual Rectifier 2 Channel heads. (One black treadplate/black chassis, one chrome treadplate/black chassis.)
- 4 Mesa Boogie Rectifier Standard 4x12 cabs with Celestion V30 speakers.
- Crate 4x12" Cabinets with Celestion Vintage 30 speakers (not sure exact model of cab)




Effects and More
- Boss NS-2 Noise Supressor
- Boss MT-2 Metal Zone pedal
- Boss TU-2 Chromatic Tuner
- Monster cables



Strings and Picks
- D'Addario 13-56 (or 13-63) gauge guitar strings
- Dunlop .88mm guitar picks