Mike D'Antonio is the bassist and founder of Massachusetts Metalcore band Killswitch Engage ( KSE ). D'Antonio formed the band Killswitch Engage after his band Overcast broke up in 1998.

D'Antonio's metal bass style is influenced by In Flames and Dark Tranquillity, and he cites Cliff Burton and Harley Flanagan of the Cro-Mags as personal influences.

An interesting fact is that all of Killswitch Engage's artwork and merchandise is said to be designed by D'Antonio, who is a graphic artist. D'Antonio's company, DarkicoN, designs and produces artwork for bands such as Shadows Fall, Unearth and All That Remains.

Let's look at some of the gear and equipment that has been seen in Mike D'Antonio's bass rig.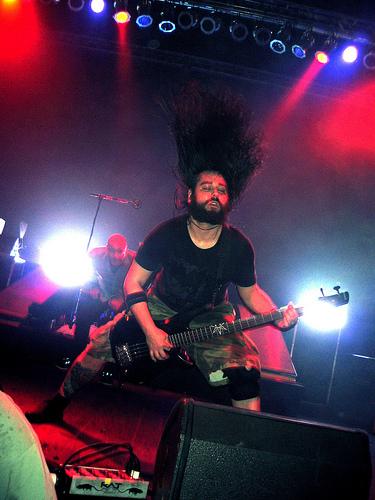 Click the gear images for more info and specs at Guitar Center and Amazon

Bass
- Ibanez MDB3 Mike D'Antonio Signature Electric Bass Guitar
- Ibanez Mike D'Antonio signature MDB2 bass
- Ibanez SRX700 bass

Amps and Cabinets
- EBS Fafner II bass amp head
- Ampeg SVT PRO 5 head and Ampeg classic 8x10 cab (used before he switched to Mesa / Boogie in 2005)


- Mesa / Boogie Big Block 750 and Big Block Titan
- 2 Mesa / Boogie 8x10" cabinets (live)
- 1 Mesa / Boogie 4x12" cabinet (used for the recordings)
- Ampeg SVT Classic head



Effects and more
- EBS MultiComp pedal
- Tronographic Rusty Box pedal
- Tech 21 SansAmp DI pedal

- Noise suppressor pedal (we assume it is a Boss NS-2)
Quote: "I basically run all EQ flat on everything from the bass to the head. I use the sans amp for all my tone." - D'Antonio
Strings and Picks
- Dunlop Gator Grip 1.14 mm picks with custom print

- Dunlop Tortex picks with custom printing
- DR Strings - Custom Hi-Beams 55-75-95-120