Jonny Greenwood is a BAFTA-nominated musician, best known as a member of English band Radiohead . Greenwood is a multi-instrumentalist and also serves as Radiohead's lead guitarist. He is the younger brother of fellow Radiohead member Colin Greenwood. In addition to guitar he plays viola, organ, piano, xylophone, glockenspiel, ondes Martenot, banjo and harmonica. He was ranked number 59 on Rolling Stone's "100 Greatest Guitarists of All Time".

Let's look at some of the gear and equipment that has been seen in Jonny Greenwood's Guitar Rig.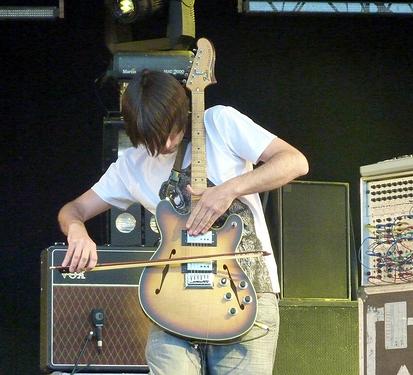 Click the gear images for more info and specs at Guitar Center and Amazon

Guitars

Electric Guitars
- Fender Telecaster Plus, with a custom cut-off switch and special rewirings made by Greenwood and Plank (Radiohead's Guitar Technician). This guitar is equipped with Lace Sensor pickups.

- Fender Telecaster Standard converted into a Plus which also has a custom cut-off switch and Lace Sensor pickups

- Fender Starcaster, with Fender Wide Range pickups, can be heard predominantly on Kid A and Amnesiac.
- Gretsch G6119-1962HT Tennessee Rose HT

- Gibson Les Paul HD.6X-Pro Digital
- Gibson ES-335 (used on the acoustic Tour 2003)

- Gibson Les Paul Goldtop (used for 'The Headmaster Ritual' on the Thumbs Down Webcast)

- Guild M85 Bass


Acoustic Guitars
- Martin D-35
- Taylor Big Baby (played by both Jonny Greenwood and Thom Yorke in pictures from Dead Air Space)




Amplifiers
- Vox AC30, used for clean tones. (all his effects go through this except his ShredMaster)
- Fender Eighty Five, solid state amp, used for distorted tones. (Only the ShredMaster, Super Overdrive, Reverb/Delay, Headrush and possibly Whammy go into this)
Notes: In the earlier years he used a Fender Twin Reverb for clean tones and a Fender Deluxe 85 for distorted tones.

- Ashdown cab (for bass)



Effects Pedals
- Pro Co RAT Turbo RAT Distortion (this was used around The Bends Era.)
- Marshall ShredMaster (which is unmodified, contrary to popular belief)
- Digitech WH-1 Whammy

- Demeter "The Tremulator", older version of the Demeter TRM-1 Tremulator (which was originally thought to be a homemade tremolo pedal)
- DOD 440 Envelope Filter
- Electro-Harmonix Small Stone
- Electro-Harmonix Poly Chorus
- BOSS SD-1 Super Overdrive

- BOSS RV3 Digital Reverb/Delay
- BOSS FV-300H Volume Pedal, used as a gain controller. (placed before his ShredMaster)

- BOSS TU-12H Chromatic Tuner

- BOSS LS-2 Line Selector (used to switch channels) (two are placed on pedalboards, one placed off)
- Roland Space Echo RE-201 (Turned on by using a Vox Egg Footswitch)
- Mutronics Mutator (not used live, as he uses his DOD 440)
- Akai Headrush E1, now an E2 is used(used as a loop recorder)

- Voodoo Labs Pedal Power units powering effects pedals.
- BOSS RE-20 Space Echo (now used due to technical issues with RE-201)
- Boss OD-3 pedal
Strings and Picks
- Dean Markley Signature Series 10-46 strings
- Dunlop Nylon .60mm and .38 mm guitar picks