Buckethead (aka Brian Carroll) is an American guitarist and composer. He is known for wearing a white plastic mask and a KFC bucket on his head and for being a quiet dude.

Buckethead has released 38 solo albums and performed on over 50 more records. He has also made a guest appearance on 44 different albums from various artists. His music spans across diverse areas such as thrash metal, funk, electronica, jazz and avant-garde music.

Although a multi-instrumentalist (playing bass guitar, banjo, keyboards, ukulele, organ, violin, clarinet, saxophone, recorder, drums, gong, and piano), Buckethead is best known for his electric guitar playing, characterized by diverse playing styles spanning thrash guitar, fingerpicking, and slap guitar. Guitar One voted him number 8 on a list of the "Top 10 Greatest Guitar Shredders of All Time".

Although Buckethead now works primarily as a solo artist touring the United States with a trio, he has had a wide variety of high profile collaborations with such artists as Les Claypool, Tony Williams, Bootsy Collins, Bernie Worrell, Iggy Pop, Serj Tankian, Guns N' Roses, Saul Williams, Mike Patton, Viggo Mortensen and with Bill Laswell on Praxis.

Cool fact we found - Buckethead studied for a year under Paul Gilbert.

Let's check out the gear that has been seen in Buckethead's Guitar Gear Rig and Equipment !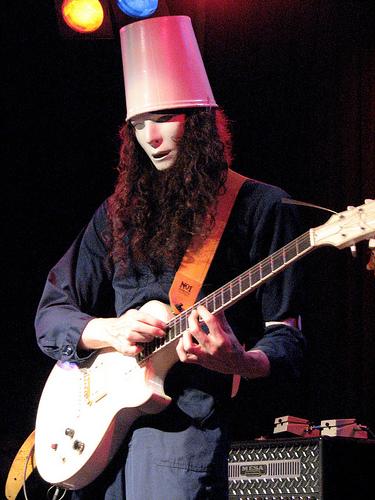 Click the gear images for more info and specs at Guitar Center and Amazon

Guitars
- Gibson Les Pauls - custom made, white, all white hardware, killswitch, DiMarzio X2N pickups. (Gibson made a signature version for him also in 2010)

- Gibson SG

- '59 Gibson Les Paul Custom (used on some Laswell-related projects) ('59 std pic below)

- '69 Gibson Les Paul Custom (used on the Cobra Strike and Viggo Mortensen projects
- Gibson SST
- Gibson Chet Atkins
- Jackson Y2KV - "coopwood" custom made, reverse neck, with larger body and headstock due to Buckethead saying normal guitars looked like toys in his hands
- Jackson Y2KV - "KFC" same as the "coopwood", only with the KFC red stripes, Di Marzio X2N PUs, kill switch and an Original Floyd Rose
- Jackson doubleneck - a custom doubleneck half guitar, half bass
- ESP MV custom - used throughout his concert in the Wetlands, broken as seen in one of the Binge Clips
- Heartfield Talon model guitar
- Steinberger GS "Kaiser's Gift"
- Ibanez X Series Rocket Roller II - used throughout the Praxis era
- Takamine Acoustic
- Vigier Excess Indus 4-String Bass



Amps and Cabinets
- Mesa Boogie Stilletto amplifier head (seen on 2009 tour)
- Mesa/Boogie Triple Rectifier amplifer heads (often two on stage)

- Marshall 1960a Slant 4x12 cabs

- Diezel Herbert

- VHT Pittbull 50 watt heads

- Matt Wells 17 1/2 watt head wired through a Harry Kolbe 4x12 cab
- Peavey Renown amplifier
- Peavey 5150 head
- Marshal JVM410

- Bogner Uberschall

- Engl Powerball II
Effects and more
The following gear was seen on the 2009 tour:
- Vox Wah
- Line 6 MM4

- Line 6 DL4
- Snarling Dogs Super Bawl Whine-O Wah
- DOD Electronics FX-25B envelope filter
- BOSS NS-2 Noise Suppressor
- Line 6 FM4 Filter Modeler
This is other gear that has been seen in Buckethead's rig. Some of it may or may not have been used in recent rigs:
- Digitech Whammy II (and IV)

- Dunlop CryBaby 535Q
- BOSS TU-2 Chromatic Tuner
- BOSS RC-20 Loop Station
- BOSS OS-2 Overdrive/Distortion
- Roger Mayer Octavia
- Alesis MidiVerb II
- Roland SE-50 multi-effector
- Zoom multi-effects
- AnalogMan BicompROSSor
- MXR EVH phase 90
- MXR Phase 100
- Electro-Harmonix Micro Synthesizer
- Snarling Dog Mold Spore Wah (seen using in 2008)
- Electro Harmonix Q-Tron (older model)
- Boss SYB-5
- Boss HM-2
- Dunlop Tortex guitar picks
- No1-STRETCH guitar Strap
Big thanks to Graeme Flegenheimer for giving us permission to use his 2009 photo of Buckethead's pedalboard. Graeme took this picture May 2009 in South Burlington Vermont.
Click the image to enlarge it fullsize.