Wayne Static is an American musician, and currently the singer, guitarist, keyboardist, and programmer for the industrial metal band Static-X.

Wayne's rig is super affordable and very minimal. This is the type of rig anybody can own.

"You don't have to pay a lot of money for great gear...the gear I play is very affordable." - Wayne Static in a gearwire interview video

Let's look at some of the gear and equipment that has been seen in Static X Wayne Static's Guitar Rig.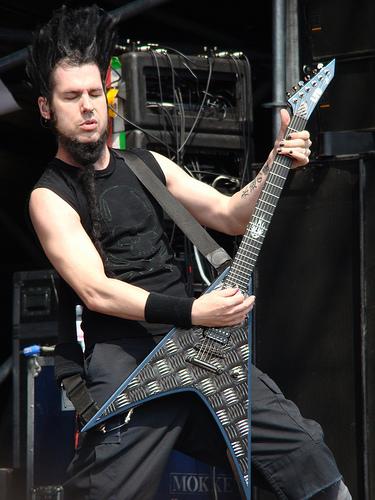 Click the gear images for more info and specs at Guitar Center and Amazon


Guitars
- Dean Modifier ML guitar (2011)
- ESP Wayne Static Signature ESP STATIC-600 with black diamond plate finish (equipped with a single Seymour Duncan Distortion at the bridge)
- ESP Wayne Static 600V guitar
- Wayne used Epiphone Wayne Static Signature Flying Vs (with neck pickups and toggle switches removed and using Seymor Duncan Distortion pickups) before being endorsed by ESP in early 2007.
Amps and Cabinets
- Marshall MG100HDFX Heads

- Marshall 4x12 Cabinets (loaded with two Celestion Vintage 30's on top and two G75's on bottom)

Note: One of our readers who toured Europe with Static-X in 2009 says Wayne went straight into Line 6 rack pods to the PA

Effects and more
- Boss NS-2 Noise Supressor


- Furman PL-8 Plus Power Conditioner
- Electro Voice RE1 Wireless Units (two)
- Whirlwind A/B/Y Selector

- Electro Voice microphones (in studio and on tour)

Strings and picks
- Dunlop electric Nickel Plated Strings

- Ernie Ball gauge .11-.52 guitar strings (previously used)
- 1.14 mm Dunlop purple Tortex Picks