Brent Hinds is a guitarist and singer for the Atlanta, Georgia metal band Mastodon, in which he shares guitar duties with Bill Kelliher and vocal duties with Troy Sanders.

Brent is also lead guitarist/singer for the Surfabilly Band Fiend Without A Face.

Let's look at some of the gear and equipment that has been seen in Mastodon's Brent Hind's Guitar Rig. Brent's guitar rig is pretty minimal. He doesn't use too many effects, which then flow to a Marshall head.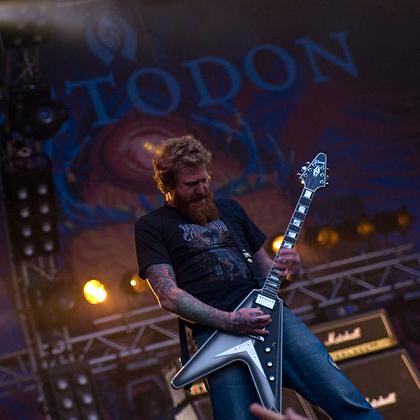 Click the gear images for more info and specs at Guitar Center and Amazon


Guitars
- Gibson custom Silver burst Flying V

- Gibson SG (heritage cherry with Maestro)

- Gibson Les Paul

- Gibson Explorer

- Brent also has a signature model by First Act. (Custom 12)
- Martin D-15 acoustic (used for writing)
- Ampeg Dan Armstrong guitar (Oblivion video)
- Custom Gibson Les Paul 30th Anniversary (with Bigsby)
- Custom Electric Guitar Company Brent Hinds Lucite V (with Maestro Vibrato)
- 1977 Fender Strat
- 1962 Gretsch Tennessean
- Gibson SG custom (white with 3 pickups and Maestro)
- PRS Starla (black)
- Lace Drop and Gain pickups

Amps and Cabinets
- Orange amplifiers  Rockerverb 100 and Thunderverb 50
- Orange PPC412C cab
- Marshall JCM 800 2204 amplifier head (2203)
- Marshall 4x12 Straight front cab with 75 watt Celestions



- Fender 1972 silverface Twin amp with 2 200 watt 12 inch bass Celestion speakers
- 2 300 watt 15 inch Celestion speakers in Fender silverface cab
- Marshall 1976 JMP MKII Lead 100 watt head
- Diezel VH4 100-watt head and Diezel 4x12 straight cab with Celestion Vintage 30 speakers

- 1964 Ampeg Reverbrocket
Effects and more
- Planet Waves Cables

- Monster Effects Mastortion pedal
- Boss EQ pedal
- Boss Delay Pedal (DD-6)
- Boss TU-2 tuner
- Boss compressor/sustainer CS-3
- Ibanez TubeScreamer TS808HW
- Monster Effects Swamp Thang pedal? (see pic of his pedalboard)
- Voodoo Lab Pedal Power
- Ebow

- Planet Waves tuner

- Whirlwind A/B selector boxes (x2)

- Enema FX Mingebox
- Shure UR4D Wireless
- SKB Stagefive Professional Pedal Board

- Morpheus Droptune

- Boss RE-20 Space Echo
- Line 6 DL4 Delay Modeler
Strings and Picks
- D'Addario EXL145 Heavy Strings gauges 12-54 and 11-52 gauges


- Thomastik Power Bright 11-51 gauge (previously used)
- Dunlop Yellow .73mm Tortex Picks