Brad Delson is a musician, who is currently the lead guitarist for the band Linkin Park. He is also the A&R for Machine Shop Recordings.

An interesting thing about Brad's Linkin Park rig is that he wears Shure headphones on stage. Forget the stage monitors! Delson has also played Bass and keyboards on various recordings.

Let's look at some of the gear and equipment that has been seen in Linkin Park's Brad Delson's Guitar Rig.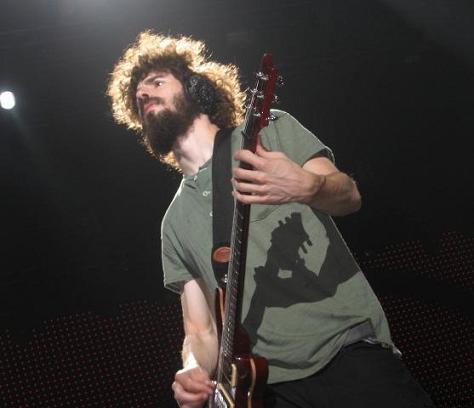 Click the gear images for more info and specs at Guitar Center and Amazon

Guitars
- Paul Reed Smith Custom 24 guitars
Note: Brad's favorite guitar is his custom-made red PRS with the Hybrid Theory soldier on the frame.

- Ibanez RG370dx guitars

- Ibanez RG7620 7 string guitars (no longer uses)
- Terry C. McInturff Sportster Guitars
- Fender 50's Stratocaster

- Fender Rory Gallagher Tribute Stratocaster
- Gibson Classic Les Paul for recording
- Fender Jaguar for clean moody sounds (recording)

- PRS Custom SE with DiMarzio D-Sonic pickups


{/source Amps and Cabinets - Mesa Boogie Dual Rectifier heads {source}

- Marshall 1959 slp reissued amplifier heads
- Randall MTS cabinets

- Randall MTS emulators. Has used the following modules: Treadplate, Top Boost, XTC - all modified
- Line 6 Amps
- Soldano SLO100 Super Lead Overdrive amp head

- '72 50-watt Hiwatt Custom

- Marshall JCM800 2203 vintage series 100W tube head
- Bogner vintage amp
- 4 Mesa Boogie "Recto-Traditional" 4x12 cabinets

- VOX AC30 amplifier
Effects and More
- Boss NS-2 Noise Suppressor
- Boss CS-3 Compression Sustainers
- Boss CE-5 Chorus Ensemble
- Boss TU-2 Chromatic tuner
- Digital Music Corp. GCX Guitar Audio Switcher
- Digital Music Corp. Ground Control Pro w/ Boss Expression Pedal
- DiMarzio Pickups (Air Zone/Tone Zone/D-Sonic)

- Dunlop Crybaby Q Wah Wah
- Furman PL plus power conditioner

- Ibanez LF7 Lo-Fi
- Shure UHF guitar wireless
- Audio technica wireless systems
- T.C.electronic G-Major
- MXR Micro Amp
- Whirlwind Multi Selector

- Ebtech Hum Eliminator

- Voodoo Lab Pedal Power 2



Strings and Picks
- Dunlop Picks .83mm
- D'Addario EXL110 XL strings