Duff McKagan is a bassist and guitar player, who is best known for his thirteen-year stint in the hard rock band Guns N' Roses. He is currently the bassist for the hard rock band Velvet Revolver. Duff also plays guitar in his side project Loaded.

Duff is a Fender Bass and Galien Krueger bass amp type of guy amongst other gear.

Let's look at some of the gear and equipment that has been seen in Duff McKagan's Bass and Guitar Gear Rig.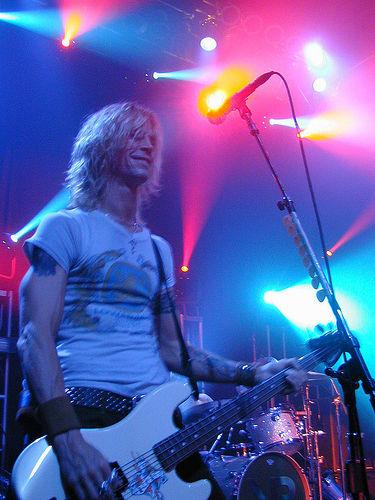 Click the gear for more info and specs at Guitar Center and Amazon

Basses
- Fender Duff McKagan signature P Bass model, based on his main Jazz Bass Special

- white 86' Fender Jazz Bass Special (Seymour Duncan Hot Stack pickups STK-J2)
- Fender Aerodyne bass

- Yamaha BB basses
- Duesenberg Star Hollowbody basses
- Gibson Les Paul standard bass
- Kramer basses
- Fernandes Burny RLG-55 guitar
- Gibson Les Paul Custom guitar (black)

- 2008 Gibson SG

- 1988 three-pickup Gibson SG
- Burny guitars (based on Les Paul, made in Japan, Fernandes company)
The picture below appears to be Duff playing one of his Burny guitars: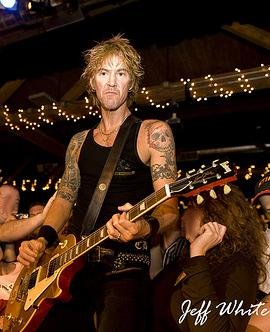 - Fender Telecaster (appears to be Jim Root model)

- Yamaha A Series acoustic

- Gretsch semi-acoustic bass (appears to be the G6073 Electrotone Bass, used with Velvet Revolver)

Amps and Cabinets
- Gallien-Krueger 2001RB's bass amplifiers

- GK 410RBH bass cabinets
- GK 2x12NEO speaker cabinets
- Gallien Krueger 800RB head
- Galien-Krueger MB150E-III/112 combo
- Electro-Voice 1x15 speakers
- Marshall JMP guitar head
- Marshall JCM900 head
- variety of Engl guitar amps and cabs - Engl Powerball E645 and an Engl Pro Guitar Cab E412VGB




- Marshall 1x12 and 4x12 guitar cabinets (studio)

- THD Hot Plate power soak
- Marshall JCM2000 (modded by Bogner)

Effect and more
- Yamaha SPX-90

- Z-vex Woolly Mammoth fuzz
- MXR M-80 Bass D.I.

- Korg DTR-1 Tuner
- Whirlwind 4 channel selector

- Shure UHF Wireless
- Furman Power

- TC Electronic Corona Chorus pedal (Duff has a TonePrint for this pedal also)
- MXR EL GRANDE Bass Fuzz/Distortion
Strings Picks and Accessories
- Rotosound swingbass 66 strings (Stainless Steels)

- Dunlop Heavy Core guitar strings (gauges .010– .048)
- Dunlop picks - "I've been using the yellow Tortex pick (.73) forever," he says. "I've tried to use other picks, but, nothing beats the yellow Tortex"
- Dunlop D-38 DD straps

- Dunlop straplocks