Mike Einziger is the multi-instrumentalist, co-writer and guitarist of the alternative rock band Incubus, in addition to his own side project band, Time Lapse Consortium. Instruments that he has played on Incubus records include guitar, piano, Mellotron, pipa, analog synthesizers, tape samplers, Fender Rhodes, Wurlitzer, and more. He's also played a Jerry Jones Guitars Master Sitar on "Nowhere Fast" from the Make Yourself album (live, he just plays the sitar part with his guitar), and a Pipa on "Aqueous Transmission". Mike also plays electric piano on songs like "Here In My Room" and has played piano on live versions of "Drive."

Let's look at some of the gear and equipment that has been seen in the Incubus guitar player's Guitar Rig.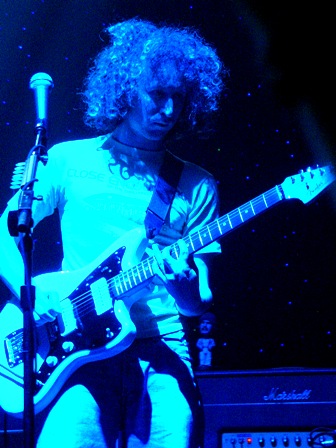 Click the gear images for more info and specs at Guitar Center and Amazon


Guitars
- Music Man Albert Lee model guitar (red)

- Variety of Ernie Ball guitars
- Ibanez guitars (in the early days)
- PRS McCarty Archtop guitars

- Paul Reed Smith Custom 24 Electric Guitar

- Fender Jazzmaster electric guitars

Notes: The Jazzmaster is now his main guitar. It has Seymour Duncan JM-2 pickups
- Gibson SG junior

- Gibson Les Pauls
- Guild D40 Jubilees fitted with Duncan D-TAR pickups

- Jerry Jones Electric Sitars



Amps and Cabinets
- Mesa/Boogie Dual Rectifier Tremoverb combo amps and 2x12 extension cabs
- Vox AC30 Reissue
Note: eliminated the tube rectifier on the AC30 and re-wired the tube socket to accommodate a solid-state rectifier
- Marshall 1959 SLP 100-watt Plexi Reissue
Note: The amp has been modded. The preamp stage was reconfigured to extract additional gain and a master volume knob was installed. The knob is situated where the second speaker jack normally goes into the rear of the amplifier.
- Marshall JCM 800
- Marshall 4x12 slant cabinet outfitted with Celestion vintage 30s on top and Celestion 75s on the bottom
- Fender G-DEC Junior Carbon 15W 1x8 Guitar Combo (used in hotel room)


Effects and More
- Boss CS-3 Compressor
- Boss GE-7 Equalizer
- Boss OC-2 Octaver

- Boss NS-2 noise supressor (when needed)
- Boss PH-2 Super Phasers (he has two of them set differently)
- Boss RV-3 Reverb Delay (in a rig rundown video he said it's one of the most important pedals he has)
- Boss TU-2 Tuner
- Danelectro Reel Echo

- DigiTech Tone Driver

- DigiTech MultiChorus pedal
- DOD 250
- DOD FX-13 Gonkulator
- DOD FX-25 Envelope Filter
- Dunlop 95Q Cry Baby Wah
- Ebtech 2 Channel Hum Eliminator

- Electrix Filter Factory
- Electro-Harmonix Deluxe Memory Man

- Electro-Harmonix Micro POG
- EHX Holy Grail nano Reverb pedal
- Hughes & Kettner Rotosphere

- Mogami 2425 instrument cables fitted with Switchcraft jacks
- MXR EVH Phase 90 Phaser
- Korg DTR rack tuner
- Voodoo Lab Pedal Power (multiple of these on his board)
- Whirlwind A/B Selector box




Strings and Picks
- 9 gauge strings - he switched to these after having wrist pain issues
- Ernie Ball RPS 11 (.11-.48 gauge) Strings
- Dunlop green Jazz Tortex Picks (also has custom printed ones, purple...)