Jimmy Page is an English guitarist, composer and record producer. Jimmy Page began his career as a studio session guitarist in London and was later a member of The Yardbirds, from late 1966 to 1968, before founding the English rock band Led Zeppelin. Page has been described as "unquestionably one of the all-time most influential, important, and versatile guitarists and songwriters in rock history." In 2003, Rolling Stone magazine ranked Page #9 in its list of the 100 Greatest Guitarists of All Time. He has been inducted into the Rock and Roll Hall of Fame twice, as a member of The Yardbirds and also as a member of Led Zeppelin.

Jimmy has had a long career and played on a ton of gear. Let's look at what gear and equipment has been seen in Led Zepplin's Jimmy Page's Guitar Rig.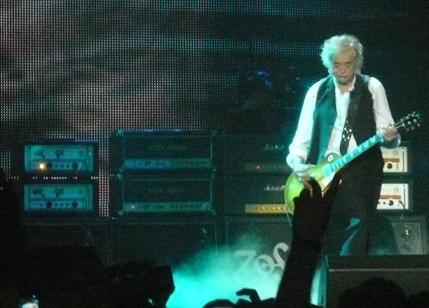 Click the gear images for more info and specs at Guitar Center and Amazon

Guitars

Cool Notes: Jimmy Page is reputed to own over 1500 different guitars. Page gave this rough estimate to BBC Radio Two presenter Stuart Maconie in June 2005.

Due to the fact the guitar was too heavy for him, one of Jimmy Page's Les Paul Custom "Black Beauty" is now owned by Dan Hawkins of The Darkness (you can find Dan's rig profile on UberProAudio also). It is not the same Black Beauty that was stolen from him in 1970.

Electric guitars
- 1959 Fender Telecaster (given to Page by Jeff Beck and repainted with a psychedelic Dragon on it by Page. Played with the Yardbirds, on Led Zeppelin I, the early tours (68-69), and on the studio version of Stairway to Heaven.
- 1958 Gibson Les Paul Standard (No. 1)

- 1959 Gibson Les Paul Standard (No. 2) Given to him by Joe Walsh

- 1960 Danelectro 3021
- 1967 Vox 12-String
- 1960 Black Gibson Les Paul Custom(with Bigsby Tremolo) - stolen in 1970

- Rickenbacker 12 String
- 1971 Gibson EDS-1275 (used for playing "Stairway to Heaven", "Celebration Day", "The Rain Song", "The Song Remains the Same" and on some occasions, "Tangerine" live)

- 1973 Gibson Les Paul Standard
- 1964 Lake Placid Blue Fender Stratocaster(Used during recording sessions for In Through The Out Door and 1979 at Knebworth, especially for In The Evening)

- 1966 Cream Fender Telecaster (Used on Physical Graffiti)
- 1960's Rosewood Fender Telecaster All rosewood body featuring a Parsons and White B-string bender. Seen primarily during the 1980s The Firm and Outrider era.
- 1965 Fender Electric XII (12-String)
- 1977 Gibson RD Artist
- Gibson SG (Very seldom used, 80s tour)

- Another Gibson doubleneck guitar was given to him after he agreed to allow the company to reproduce his original EDS-1275. The guitar was picked by Page out of numerous others after he struck one chord. Page declared "This is it, this is the one!" The guitar was marked (beforehand) #1.
- 2007 Gibson Black Beauty custom (remake of his original stolen in 1970, has modifications concerning pickup configurations which include a 6-way pickup selector, and coil-tap on the bridge pickup)
- Les Paul Goldtop w/ Transperformance tuning device Used on Atlantic 40th reunion, Coverdale/Page recordings, and Page/Plant tours

- Mid 80s Black Kramer guitar with a trem Used for Outrider
- Gibson Jimmy Page Signature Les Paul
- Gibson Jimmy Page Signature EDS-1275
- PRS Custom 22 guitar


Acoustic guitars
- Gibson J-200

- Martin D-28 Acoustic
- Gibson Everly Brothers Model Acoustic
- Giannini 12-String Acoustic
- Harmony Sovereign Acoustic
- Washburn EA20-12 12 String Acoustic
- Ovation 1994 Double Neck Acoustic

Other instruments
- Gibson Mandolin
- Gibson Harp Guitar
- Roland GR-700 Guitar Synthesizer
- Fender 10-String 800 Pedal steel guitar
- Cello Bow
- Theremin

- Banjo
Amps and Cabinets
- Fender Super Reverbs
- Fender Tonemaster Heads and 4x12 cabinets (see a mini one pictured below)
- Hiwatt 50: seen during the 1970 tour.

- Marshall 1959-SLP: 100 watt head rewired to 200 watt modded with KT-88 tubes
- Marshall 4x12 cabinets (straights and angled)

- Orange: 100 watt amp and cabinets (Jimmy Page began using the AD30 Single Channel in 1999 while on tour with the Black Crowes)

- Petersburg JP-100 amplifiers
- Supro Thunderbolt: 1*12" combo used for recording.
- Vox AC-30: (original T-boost model) used for recording. 2*12" Celestion speakers. 36 watt output.
- Wizard Classic Heads
- Wizard 4x12 Cabinet
Effects and More
- Boss CE-2 Chorus
- Boss SD-1 Super Overdrive Distortion

- Digitech WH-1 Whammy Pedal

- Dunlop Crybaby Wah (535Q)
- Eventide H949 Harmonizer
- Gizmotron
- Jensen Crybaby Wah
- Maestro Echoplex
- MXR Blue Box
- MXR Phase 90
- Pete Cornish Custom Switching System
- Pete Cornish Line Drivers
- Pete Cornish Linear Boost
- Roger Mayer fuzz box
- Sola Sound Tonebender
- Vox Cry Baby Wah
- Yamaha CH-10 Mark II Chorus
- Binson Echorec 2
Strings and Picks
- Ernie Ball Super Slinky .009-.042 Strings
- Ernie Ball Earthwood Acoustic Strings
- Herco Flex 75 Picks