Dave Murray is an English guitarist and songwriter best known as one of the original members of the heavy metal band Iron Maiden. Dave Murray joined Iron Maiden just two months after it started in 1975.

Throughout his career, Dave Murray has used and endorsed Marshall amplifiers and has used Fender Stratocasters almost exclusively.

Let's look at what gear and equipment has been seen in Iron Maiden's Dave Murray's Guitar Rig. We have tried to include the gear that has graced his more recent rigs.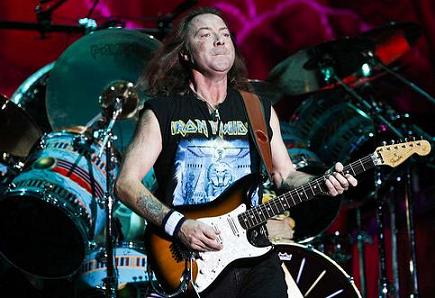 Click the gear images for more info and specs at Guitar Center and Amazon

Guitars
- Checkout the Fender Dave Murray Stratocaster Electric Guitar. Designed with Dave, modeled after his 57 strat
- 3 Fender Custom Shop Stratocasters with Floyd Rose tremolo systems. He also has his prized 57' black strat at his home in a glass case (red 57 pic below)

- Dave has been seen with the occasional Dean, Gibson, ESP, or acoustic (but most of the time he is with his strats)
- Gibson Les Paul Standard (flame top. Looks like the Traditional Plus model. New for the Final Frontier tour)
- Seymour Duncan Hot Rails Pickups
Amps and Cabinets
- three Marshall JCM2000 heads (used as power amps)
- Marshall JVM amplifier tube head
- Marshall 9200 Dual MonoBlock Power Amp / Marshall EL-34 100/100 Power Amp
- Straight-Front Marshall 1960B 4x12s Loaded with Celestion G12 "Vintage" 75-Watt Speakers
Effects and more
- Fulltone Mini Deja'Vibe
- Fulltone Clyde Standard wah
- Boss TU-12H Digital Tuner
- Peterson 490 Autostrobe Tuner
- Shure U4D UHF Wireless Unit
- Dunlop DCR-1SR Rack CryBaby Wah and controller
- Custom-Built Pete Cornish Routing and Power Supply Units
- Marshall JMP-1 Valve Midi Preamp
- Marshall JFX-1 Effect Unit
- Rocktron All-Access Foot Controller
- MXR Phase 90
- Rocktron Midi-mate

- TC Electronic G-Force
Strings and Picks
- Ernie Ball Strings gauges: .009, .011, .016, .024, .032, .042
- Ernie Ball Tortoise shell medium picks