Jeff Hanneman is a guitarist and a founding member of the thrash metal band Slayer.

Hanneman has contributed both lyrical and musical material to every Slayer album and has written some popular Slayer songs. Jeff has his own signature guitar made by ESP.

Let's look at what gear and equipment has been seen in Slayer's Jeff Hanneman's Guitar Rig.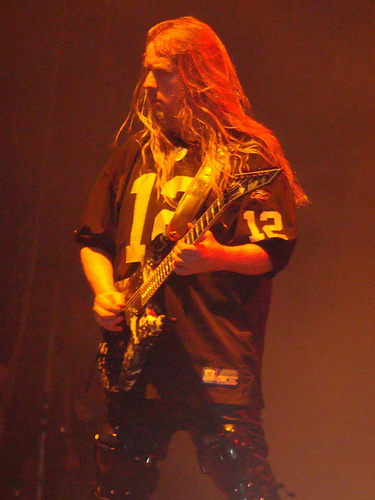 Click the gear images for more info and specs at Guitar Center and Amazon

Guitars
- ESP Jeff Hanneman Signature model electric guitar

- ESP LTD JH-600EC Jeff Hanneman Signature electric guitar

- Jackson Custom Shop Soloist with 2 EMG Pickups

- ESP LTD JH-600 Jeff Hanneman Signature Series Electric Guitar

- ESP LTD Jeff Hanneman JH-200 model guitar

Amps and Cabinets
- Marshall JCM-800 2203 amplifiers with Groove Tube 6550 power tubes



- Celestion G12T-75 Speakers in modded Marshall 1960B 4x12 Cabs.
- Marshall Mode 4 cabinets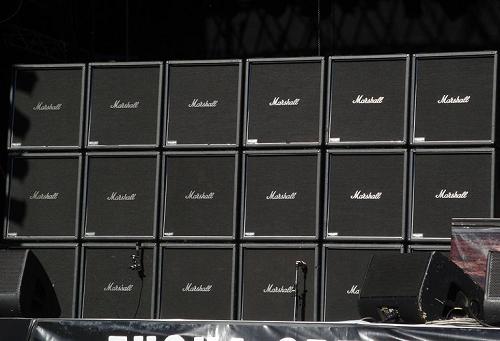 Effects and More
- MXR Smart Gate
- MXR 10 band EQ
- EMG 81/85 Pick-ups with EMG SPC Mid-Boost circuit

- Shure UHF Wireless System
- Eventide H3000S Harmonizer

- Dunlop Dimebag Crybaby From Hell Wah-Wah Pedal

- Monster Cable

- Kahler bridges
- Morley Pedals (not sure which ones. He is listed on the Morley site though)
- Rocktron Surf Tremolo
- Whirlwind A/B Selector

- Yamaha SPX90 Multi-Effects

- Korg DTR-1 Rack Tuner
- Peterson 490-ST Strobe Tuner
- Countryman Direct Box
- Dunlop Zakk Wylde wah (used for World Painted Blood recording)
- Boss RGE-10 EQ (used for World Painted Blood recording)
- Rocktron Super C HUSH

- Dunlop Rack wah
- MXR/CAE MC-401 Boost/Line Driver (Dunlop site)

- MXR Carbon Copy
Strings and Picks
- Dunlop electric guitar strings
- D'Addario .009-.042 Strings (past)
- Dunlop Tortex .73mm Triangle picks with custom graphics