Zacky Vengeance is the rhythm guitarist and back up vocals for the band Avenged Sevenfold. Vengeance has played guitar since he was thirteen years old, and is self taught. He can play the guitar with both hands. Vengeance has been sponsored by Schecter Guitar Research since 2004, and has custom S-1 models out. He uses Seymour Duncan Pickups in all of his guitars. Vengeance released a clothing line called "Zacky V. Presents...". The current design features the popular "Vengeance University" logo, which Zacky designed himself. The line currently features t-shirts and belt buckles, featuring his trademark "Est. 6661" tagline on it.

If you were wondering, Zacky does a lot more than design cool clothes. He provides some sweet shredding rythym guitar in Avenged Sevenfold. His rig is minimal but powerful.

Let's look at what gear and equipment has been seen in Avenged Sevenfold's Zacky Vengeance's Guitar Rig.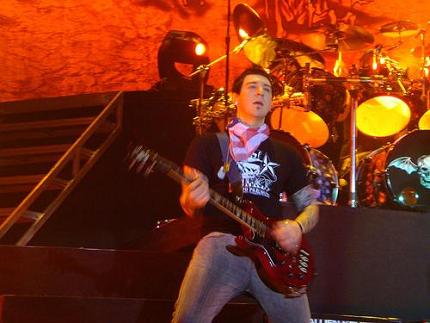 Click the gear for more info and specs at Guitar Center and Amazon

Guitars
- Schecter Guitar Research Zacky Vengeance 6661 Electric Guitar
- Schecter Zacky Vengeance Blade and Mirror guitars
- Schecter Zacky Vengeance Custom and Standard model guitars
- Schecter S-1 and S-1 Elite, and S-1 Bada Bling guitars
- Schecter Custom "Gynecologist" White w/ Blood Splatter S-1 Elite[2]
- Schecter Custom "Gynecologist" Black w/ Blood Splatter S-1 Elite
- Zacky also uses a number of other custom S-1 models.
- Zacky has used Seymour Duncan SH-4 JB Humbuckers, in addition to other Seymour Duncan pickups (Invader..)

- In 2009, Zacky has been seen playing Fender Telecasters on stage in addition to his other guitars. He has been seen with a white/creme colored telecaster that has two humbucker pickups and a maple neck, and also with what looks like a 52 reissue Fender Telecaster in Butterscotch blonde.

- Gibson SG

- Ovation acoustic (sunburst)



Amps and Cabinets
- Jet City JCA100H amplifier (2011) - the Jet City site says he uses no Overdrive pedals with this amp
- Marshall JVM205H - 50 watt model (2010)
In February 2009 Guitar World mag, Zacky and Syn said they got endorsed by Marshall and are now using the JCM800 heads
- Marshall JCM800 head
- Marshall 1960B 4x12 cab
- Bogner Ubershall and Caveman Head and Bogner Uberkab 4x12 Cabinet

- Mesa Boogie Dual Rectifier Head and Mesa Triple Recto Cab


Effects and more
- Boss Reverb
- Visual Sound H2O Liquid Chorus and Echo
- Line 6 Tonecore Constrictor
- Line 6 DL4 Delay Modeler
- Seymour Duncan SFX-01 Pickup Booster
- Voodoo Lab GCX Audio Switcher
- Line 6 PODxt Pro
- Ebtech Hum Eliminator

- Whirlwind AB-8 Audio Switcher
- Shure U4 Wireless Systems
- MXR Zakk Wylde Black Label Chorus

- ISP Decimator noise gate
- MXR Custom Shop Compressor (clean channel)

- Ibanez LoFi pedal
- Dunlop DC Brick
- Ground Control (switching done back stage by tech)
- Boss Chromatic Tuner pedal
Strings and Picks
- Ernie Ball "skinny top, heavy bottom" strings gauged .010-.052.
- Dunlop Tortex yellow picks 0.73mm (Avenged Sevenfold logo)