Mick Mars is the lead guitarist for heavy metal/glam metal band Mötley Crüe.

Of recent interest, Mick Mars has recently contributed his songwriting talents to the Swedish "sleaze rock" band CRASHDÏET.

Let's look at what guitar gear and equipment has been seen in Motley Crue's Mick Mars' Guitar Rig.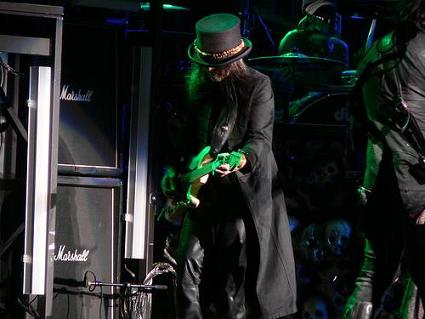 Click the gear images for more info and specs at Guitar Center and Amazon

Guitars
Notes: Not sure on exact guitar colors.
- Gibson Les Paul Customs for Too Fast For Love Shows 1981-1983.

- Gibson Les Paul Custom, B.C. Rich Warlock, Gibson Flying V and Guild Flying Star during the Shout At The Devil tour 1983-1984.




- Hamer Explorers, Kramer Barettas and Kramer Pacers during the Theatre Of Pain tour 1985-1986.

- Kramer Custom Shop Telecasters during the Girls Girls Girls tour 1987-1988.
- Kramer Custom Shop "mirror top" Telecasters and a variety of Barettas and custom shop Kramers during the Dr. Feelgood tour 1989-1990. (Fender Stratocaster in Don't Go Away Mad video.)
- Fender Stratocasters and Telecaster, Gibson Les Pauls, Charvel Super Strat and Paul Reed Smiths (CE22) during the Decade of Decadance Shows 1991 - 1993. Note: It's known that he has a 68 and a 69 reissue strat.

- Fender Stratocasters during the Mötley Crüe tour 1994-1995.
- Gibson Les Pauls, Chet Atkins signature (Gibson or Gretsch?) and Fender Stratocasters as main stage guitars for Generation Swine shows 1996-1997, Greatest Hits support shows 1998-1999, New Tattoo tour 2000-2001, Carnival of Sins Tour/Route of all Evil Tour 2005-2006.

- Paul Reed Smith McCarty 24

- Floyd Rose Guitar


Amps and Cabinets
- Marshall JCM800 model 2203 100 watt amps (and 50 watt amp)
- Rivera Bonehead 100 Watt Head(knucklehead pic below)

- Soldano SLO-100 Super Lead Overdrive Head

- Rivera Straight Cabinet / 4x12

- Rivera LB212 sub-bass cabinets
- Fryette, VHT Classic and Crest Power Amps (Soldano head goes into the VHT 20-100 power amps)

- Marshall 1959 SLP Head
- Marshall 1960BV 4x12 straight cabinets with Vintage 30s (used with the Soldano/VHT setup)
- Marshall Hendrix Style 1982BJH cabinet (the jcm800 goes into this)
Here's a great String Theory video that Ernie Ball did with Mick Mars. Mick is playing a Fender Stratocaster. We get glimpses of all sorts of Gibson guitars (Les Paul Customs...) and Fender electric guitars along with a Marshall JMP tube amp head and a variety of other amp heads (Soldano). There's a shot of an Ernie Ball Musicman Cutlass headstock.


Effects, Rack and More
- Dunlop Crybaby Wah Foot Controller and rackmount unit DCR-1SR
- Heil Sound Talk Box
- Rocktron Banshee Talk Box

- Alesis Quadraverb Multi-FX
- Crest 7001 Power Amplifier
- Custom Audio Electronics 3+ SE 3 Channel Tube Preamp
- Dynacord CRS-222 Leslie Simulator
- Eventide H3000/3500 Harmonizer

- Rocktron Hush IIC rack unit (super c pictured below)

- Rocktron Replifex Multi-FX
- Yamaha SPX-1000 Multi-FX

- Whirlwind Switcher

- Rocktron Bradshaw RSB-12R switching system
- Vox Clyde McCoy wah pedal
- TC Electronic M-One dual effect processor

- Radial SGI TX Studio Guitar Interface (he uses this when not going wireless)



Strings and picks
- Ernie Ball Power Slinky PARADIGM electric strings 11 gauge
- Ernie Ball .010-.046 Strings
- Ernie Ball Heavy Picks