Danny Carey is the drummer for the progressive rock band Tool. His drum kits may change over time, but we profiled his 2007 kit to give you a taste of what he uses. We also pepper in newer info too.

Let's look at what gear and equipment has been seen in Tool's Danny Carey's Drum Kit.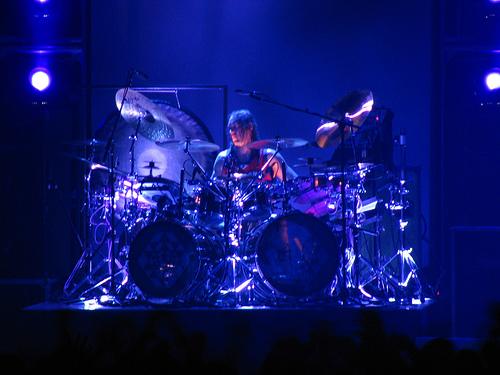 Click the gear images for more info & specs at Guitar Center and Amazon

Drum Sticks
Carey uses his own signature model of drumstick made by Vic Firth.
Nylon tip:
Natural wood tip:
Drum Kits
Carey plays a Designer kit from SONOR (beech shells with inner and outer makassar ebony veneers - 1" thick on 8" tom and progressively thinner as the drums get larger - apart from the bass drums, which are made out of rosewood and about 3/8" thick), which he designed himself and used on Tool's recent 10,000 Days album and tours. Carey also uses a kit composed of custom cast bronze shells (3/16" thick and same dimensions as the SONOR, apart from the fact that both bass drums are 22"x18") made from recycled Paiste cymbals, manufactured by master drum tech and drum maker Jeff Ocheltree (mostly on US tours as it is too heavy to readily transport elsewhere; he has also used it on "Jambi" from 10,000 Days). The set-up for both kits is as follows:
Note: A 14x8 snare drum came out in 2009, made by Sonor, that re-cretes Danny's favorite vintage snare.
Sonor Custom Drums & Paiste Cymbals:

Drums – Custom
- 14x8" Bronze Snare (by Jeff Ocheltree, made out of recycled Paiste Cymbals)
- 8x8" Rack Tom
- 10x10" Rack Tom
- 14x16" Floor Tom
- 16x18" Floor Tom
- 22x18" Bass Drum
- 22x16" Bass Drum


Cymbals – All Paiste   (note: some of the cymbal pics below are slightly different sizes than listed and are just for illustration)
- 13" Signature Sound Edge Hi-Hat
- 21" Signature Dry Heavy Ride
- 18" Signature Full Crash
- 19" and 20" Signature Power Crash cymbals
- 20" Signature Thin China
- 20" 2002 Novo China
- 11/18" Noise Works Dark Buzz China
- 8" and 10" New Signature Dark Energy Splash Mark I cymbals
- 5", 7.5" and 8" 2002 Cup Chime cymbals
- 6" 2002 Accent Cymbal
- 8" Signature Bell
- 40" Symphonic Gong


Drum Heads - Evans :
Snare: Evans Power Center on batter side, Evans Hazy 300 on snare side.
Toms: G2 clear on batter side, G1 clear on resonant side.
Bass: EQ3 clear on batter side, Retro Screen Mesh on resonant side.
The hardware is mainly composed of Sonor stands, Pearl Eliminator Drum pedals, a Roc-n-Soc Throne and a Pearl RH-2000 remote hi-hat stand. Carey also has been known to use Axis pedals.

He uses seven electronic drum pads around his kit, co-designed by him and Vince DeFranco. These pads are high resolution position and velocity sensing drums called Synesthesia Mandala Drums, and have replaced the various Simmons SDX pads formerly in his setup. He uses a program called Battery, from Native Instruments, on an Apple Mac G5 to manage the samples. Additionally, he uses a Korg Wave Drum, a Roland Handsonic and a few electronic pedals.

Fun Fact: Carey's "Drumtree" kit, cost about $70,000 to make and the cast bronze bass drum weighted close to 700 pounds after pulling it out of the mold, and after lathing it was lowered to about 100 pounds.