Synyster Gates is the lead guitarist for the band Avenged Sevenfold.

He has been sponsored by Schecter Guitar Research since 2004, and has signature Avenger models.

An interesting fact is that Synyster Gates attended the Musicians Institute in Hollywood as part of the GIT program, studying jazz guitar.

Let's look at what gear and equipment has been seen in Synyster Gates' Guitar Gear Rig.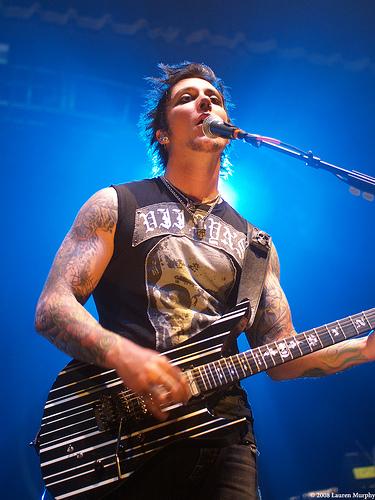 Click the gear images for more info & specs at Guitar Center and Amazon

Guitars
- Schecter Synyster Gates Signature Custom models with Seymour Duncan SH-8 Invaders and Sustainiac neck pickup sustainer
Syn is said to have a large collection of custom Schecters, including a Rebel flag, American flag, German flag, Black with Red Stripes, Red with Black Stripes, and also one with a Tune-O-Matic Bridge.
Note: There are also a lower priced Schecter Synyster Gates Signature Deluxe and Special models:

- Schecter 3700 Synyster Gates-AC GA SC-Acoustic Guitar
- Schecter Avengers
- Schecter Custom C-1 FR and Hellraiser C-1 FR

- Schecter PT Fastback
- Gibson Custom Shop Les Paul Custom  (not sure what color)

- Parker Fly (not sure exact model/color)
- Ibanez - RG Prestige
- Schecter S-1 loaded with Seymour Duncan JBs
Amps and Cabinets
- Schecter Hellwin Synyster Gates amplifiers (Hellwin USA 100) and cabs (released 2013)
- Marshall JVM205H (2010)
- In February 2009 Guitar World Mag, Gates said they got an endoresement from Marshall and are using JCM800's only
- Marshall JCM800 amp heads
Syn used the Bogners before the Marshall endorsement:
- Bogner Uberschall and Caveman amps

- Bogner Uberkab 4x12" and standard Bogner 4x12"

- Mesa Boogie Triple Rectifiers

- Krank Revolution Head
- Krank Revolution 4x12" cabinet

- Marshall various low-watt combos
- Marshall 4x12" cab 1960b




Effects and more
- Digital Music GCX and Ground Control
- Visual Sound H20 Liquid Chorus and Echo
- A Custom Boost for solos
- Krank Distortus Maximus

- MXR Wylde Overdrive

- Boss SD-1 Super Overdrive
- Boss PH-3 Phase Shifter
- BOSS RV-5 Digital Reverb
- Boss CS-3 Compressor
- Boss BF-3 Flanger
- Digitech Whammy Pedal

- Electro-Harmonix Big Muff Pi Fuzz Pedal
- Seymour Duncan SFX-01 Pickup Booster
- Budda Custom Wah (2010)

- MXR Carbon Copy Delay
- Dunlop Crybaby (rackmounted)
- Audio-Technica 5000 Wireless System
- Electro-Harmonix POG pedal
- ISP Decimator pedal
- Dunlop DC Brick
- Ebtech Hum Eliminator

- Boss Tuner pedal (on his front of stage board)
Strings Picks and Accessories
- Ernie Ball strings, gauged .010-.052. ('skinny top, heavy bottom' strings)
- Dunlop Tortex 1.14mm picks (as reported in 2010)
- Black Dunlop Gator Grip 2.0mm picks

- Rebel Straps Skull Bottle Opener Strap (the rebel lighter strap is pictured below)
- Rebel Straps Skull Pick Box Strap
- White Get'm Get'm Sergeant Stripes Guitar Strap

- Black Schaller Strap Locks

- Levy's Boot Leather Guitar Strap With Metal Bullets