Eddie Vedder is the lead singer and one of three guitarists for the rock band Pearl Jam. He is notable for his deep baritone vocal style, and for being a cultural icon of alternative rock.

Eddie is known for his vocals, but he also plays guitar in the band. He has the most minimal rig out of the Pearl Jam guitar players. His guitar signal path is pretty simple.

Let's look at what gear and equipment has been seen in Pearl Jam's Eddie Vedder's Guitar Rig.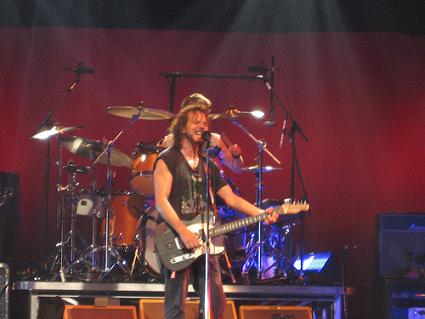 Click the gear images for more info and specs at Guitar Center and Amazon

Guitars
- Martin "0-18" acoustic
- 1952 Fender Telecaster Reissue

- 1963 Fender Telecaster Black-sparkle finish

- Mosrite 12 String Formally owned by John Entwistle ( The Who )
- 1981 Fender Telecaster Black finish Used on 'Can't Keep

- 1985 Schecter Telecaster Black Finish
- 1987 Rickenbacker 360 Black Finish
- 1996 Schecter Telecaster Gold Finish
- 1998 Jerry Jones elec. Sitar Black Finish
- 1998 Gibson SG Black Finish

- Various other Fender Telecaster Reissues
- Gibson SG Gold Finish w/ tremolo
- Gibson SG Jr. Blue-Green Finish
- Gibson SG Jr. Red Finish



- Mosrite Johnny Ramone Sig.
- 2001 Gibson SG Special Blue-Green Finish

- 2001 Gibson SG Satin Mahogany Red Finish Pete Townshend Signature
- 2002 Tululele Custom Tenor Uke

Amps and Cabinets
- Hi-Watt DR-504 50w Amp

- Straight Face Marshall 1960B Straight Cabinet / 4x12
-

- 4x10 Fender Super Reverb

Effects and more
- Boss DD-5 Digital Delay
- E-Bow (still used, especially during "Rearviewmirror" jam)

- Hohner Marine Band Harmonicas (key of G)

- Cosmic Percussion Tambourines (by LP)
- Remo Banana Fruit Shakers
- Audix OM-7 Vocal microphones (at least in 98 he did)




Strings and picks
- GHS Boomers (.010-.50)
- D'Addario flatwound strings
- Thomastik flatwound strings (used on "I Am Mine" studio recording)
- Martin Marquis 80/20 Bronze Mediums (used on "Thumbing My Way" studio recording)
- Dunlop Tortex .60mm  picks