Jeff Ament is an American rock bassist and, along with Stone Gossard and Mike McCready, one of the founding members of Pearl Jam. Jeff is a renowned bassist, and is particularly notable for his work with the fretless bass, upright bass and twelve-string bass guitar.

Let's look at what gear and equipment has been seen in Pearl Jam's Jeff Ament Bass Rig.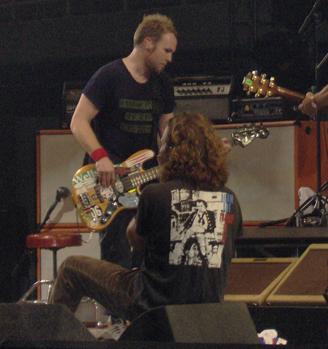 Click the gear images for more info & specs at Guitar Center and Amazon

Basses
- vintage Fender Precisions (including a sunburst '59 once owned by Canned Heat's Larry Taylor)

- Multiple '90s Modulus custom Jazz-style basses (iron color, purple, etc...)
- 2000 Modulus custom Silvertone replica
- '90s fretless Wal Basses - Woodgrain
- '70s Ovation Magnum
- Azola Acoustic Baby Bass electric upright
- 1966 Gibson ES-330 guitar

- 1990 "Fingerpaint" custom Hamer 8-String bass
- 12 string Hamer natural Acoustic custom Bass
- Carruther's Sub-1 upright electric bass brown color
- 1959 Sunburst Fender Jazz Bass


Amps and Cabinets
- 1973 Ampeg SVT I head

- four custom orange colored Ampeg SVT610HLF cabinets

- SWR custom 6x10s without horns

- Ampeg SVT-2 PRO head

- Ashdown ABM 500 EVO head

- 1968 Ampeg B-18
- 1970 Acoustic 360 pre-amp
- '96 Ampeg SVP Pro pre-amp
- reissue Ampeg B-15R
- SWR 2x10" cabs (off stage monitor for techs)
Effects and More
- Sony WRR840 wireless receiver
- MXR M-108 10-band and/or 6-band EQs
- Fulltone '70 pedal

- Fulltone Bass-Drive pedals
- Boss reverb/delay
- Furman VU-40 meter
- Brooke Siren AR116 D.I.
- TCM Design '24cx-4' active crossover
- Jester Enterprises Hydra tube splitter
- Avalon DI
- Digitech Bass Whammy pedal
- MXR 117 Flanger

- Sansamp Classic Distortion
- Uptown Flash footcontroller
- Sal Trentino custom 4ch load-box
- DBX 166 compressor
Strings and picks
- Dean Markley SR2000 medium bass strings

- Dean Markley SR2000 medium-light bass strings (fretless only)

- Thomastik "Spirocore" upright bass strings
- Dunlop Tortex 1.0mm picks